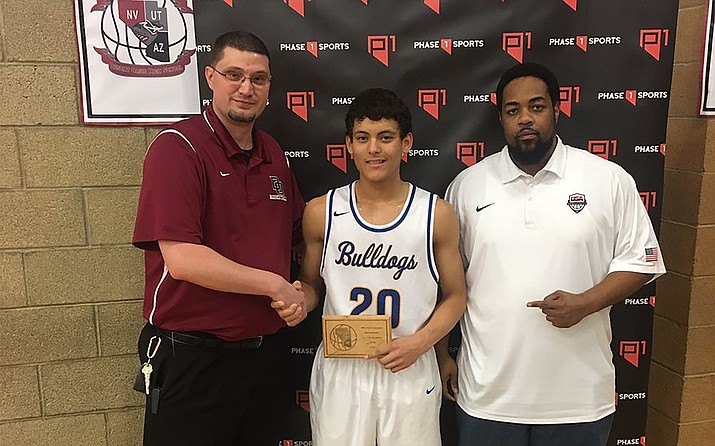 Originally Published: January 4, 2017 6 a.m.
Updated as of Wednesday, January 4, 2017 8:36 AM
KINGMAN – Kingman Bulldogs boys basketball coach Nick Juby is pleased with his team's effort at the Desert Oasis High School basketball tournament held on Dec. 27-28 in Las Vegas.
The Bulldogs were competitive in all of their games going 1-4.
Big man Anthony Pinto continues to have a great senior campaign matching his season high of 28 points against Parker Broncs, by scoring 28 against Sunrise Mountain.
Elijah Howery scored 17 points on his way to being named to the All –Tournament team. He was voted onto the team by the opposing coaches at the tournament. Howery was named one of the top 15 players.

"Overall I was proud of the way the guys played," Juby said. "We played together and played really hard. Each starter hit double figures in at least one game with three of them setting new career highs."
The Bulldogs lost in the third-place game of the Elite Bracket by three points to teams that finished second in their pools. Juby is impressed by his team's 16-point loss to tournament champion Arbor View by 16. Kingman outscored them in the fourth quarter to win the quarter. Jonathan Hunt was the team's leading scorer with 18 points against Arbor View in their comeback effort.
Tobias Bagby scored 17 and Jordan Dupee did damage from the 3-point line scoring 16 against Virgin Valley in another game.

"If we play the way we did in the last two games of the tournament, we should do really well in region play," Juby said. "I am excited for these next 10 games and really think we have a chance to do something great and special."
Juby expects his team to be ready and build upon the momentum of the tournament. Northwest Christian comes to KHS at 7 p.m. Jan. 6.