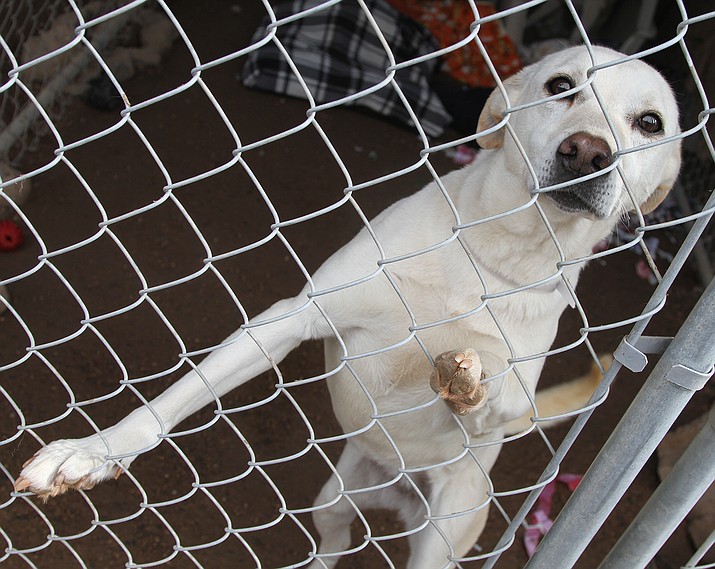 Photo by JC Amberlyn.
Originally Published: January 4, 2017 6:03 a.m.
KINGMAN – Mohave County supervisors voted unanimously Tuesday to start the 60-day process to revoke the kennel license for Rescued Unwanted Furry Friends Foundation, the animal rescue operation that has been a hot point for more than six years.
The 40-acre RUFFF shelter in Golden Valley was shut down by the county health department and development services in December following a number of building and health code violations, leaving some 180 dogs, cats and various livestock without a home.
County Administrator Mike Hendrix said Mohave County Sheriff's Office and Western Arizona Humane Society are working to get the dogs and cats adopted or transferred to other shelters. About 40 dogs and 20 cats remain at the facility.
RUFFF is cooperating with the sheriff's office Animal Control in gaining possession of the animals as quickly as they can be processed, Hendrix added.
It will take about three weeks to handle just the dogs, so the hope is to allow the adoption process for the animals to continue while the license revocation plays out.
The next step is for the Planning and Zoning Commission to take action at its February meeting, and then the item would come back to the Board of Supervisors at its second meeting in March.
That should give Western Arizona Humane Society ample time to evaluate the animals and homes for placement, Hendrix said.
"We're down to a little over 40 animals, so they've made great progress in a short amount of time," he said.
Supervisor Jean Bishop, who represents the Golden Valley area, said she spoke with the attorney for RUFFF founder Hillarie Allison and was told that the operation is "winding down."
"Her attorney advised me of her willingness to close the shelter for the benefit of the animals," Bishop said. "I feel comfortable with what's happening out there. They're winding down and have the animals down to a manageable number. I don't see why we can't give them more time to rehome the animals and keep an eye on the situation."
Supervisor Buster Johnson, who wanted to close RUFFF down at the last board meeting, asked about criminal charges.
There have been charges filed, but no convictions, which would be the "trigger" necessary to immediately revoke the shelter's permit, Hendrix answered.
Johnson also wanted to know how many animals would have be put down. He'd heard that six or eight have already been euthanized.
"I don't know," Hendrix responded. "I know we lost at least one animal because of an altercation between animals, and one little dog got hurt badly."
More like this story