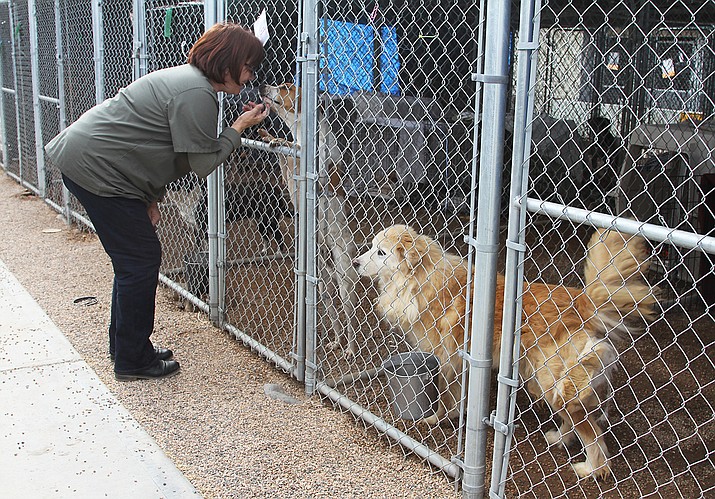 Photo by JC Amberlyn.

Originally Published: January 4, 2017 6:04 a.m.
KINGMAN – Contrary to popular belief, the animals at Rescued Unwanted Furry Friends Foundation are not slated for mass execution anytime soon.
Lisa Snyder, Operations Manager at Western Arizona Humane Society has been working with her staff and other sanctuaries and animal rescues in the area to make room for the animals they've gotten and an unknown number of dogs and cats that remain at RUFFF in Golden Valley.
"There was never and still is not a euthanasia plan in place," Snyder said.

The Mohave County Department of Public Health revoked RUFFF's permit last week for health and zoning violations. Snyder wasn't sure what the fate of the sanctuary would be when the county cracked down on the sanctuary Dec. 8, but was working with RUFFF owner Hillarie Allison and county officials to ensure WAHS was ready to handle an influx of animals.
"We didn't know for sure but we put in an action plan just in case," she said.
She didn't sugar coat the situation either. 16 dogs and four cats were taken from Allison's home at the Golden Valley location. Another 24 dogs and 21 cats were voluntarily surrendered to Mohave County Animal Control by Allison and her attorney Friday. Many of the animals have "severe medical conditions." Neither Allison nor her attorney could be reached for comment.
Lack of record keeping is one of the violations that led to RUFFF's closure, which will make finding the animals new homes difficult. Each animal has to be screened for disease and monitored for temperament. Snyder said Valley Fever – a fungal infection spread through the lungs – is alive and well in Golden Valley and if the animals aren't properly vetted, could infect others.
"We've had to medically evaluate them so we're not spreading what they already have," Snyder said.
She said at least two animals have been euthanized, "not for space, but because they were ill."
She also described some of the conditions the animals are in. Most of them have major dental problems due to poor diet and from chewing on the chain link fences of the outside kennels they were kept in. The dogs inside Allison's home were infested with ticks.
Each animal will be treated for ticks and fleas, vaccinated and dewormed. At least four rescue groups are on standby to take the animals, including American Society for the Prevention of Cruelty to Animals, or ASPCA, groups in Las Vegas and Phoenix. The animals will be going to no-kill rescues and sanctuaries, each of which Snyder has professional relationships with.
"I have visited and know each of the facilities," she said.
WAHS already shelters nearly 200 dogs and cats. Rescue groups will take both evaluated RUFFF animals and WAHS animals to make room for any others who show up in the next few days. She said the weekend social media frenzy stirred up fears that the animals would be euthanized.

"There was never anything saying those animals were going to be put down," she said.
Snyder has been working with Kingman Animal Hospital to continue the medical evaluations. There are 13 animals in the medical treatment ward at WAHS Lake Havasu City Shelter. Most of them should be adoptable in the near future, but some will have to be euthanized for severe illnesses and violent temperaments.

According to Snyder, Allison is no longer at the sanctuary, but there is someone on site to care for the remaining animals.