Originally Published: January 6, 2017 6:04 a.m.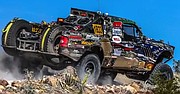 Tony Scott, owner of R & R Hitches on Stockton Hill Road, has brought more than 40 wounded veterans – men and women – together as part of Scott Racing and other off-road racing teams over the last two and a half years.
He's started the Race to Erase 22 team to prevent suicides, forge bonds between the veterans and give them the means to cope with their physical and mental wounds from war.

"If we can get a vet getting back into teamwork, the suicidal thoughts go away," Scott said.
The U.S. Navy veteran was injured during an attack on the guided missile frigate he served on during the 1991 Persian Gulf War. He's been racing off-road desert trophy trucks for more than 20 years.
Scott and his wife Jessica have spent more than $100,000 on recent vet-related racing events. Money from his business, fundraising and local sponsors helped fund a new F-100 three-seat desert truck and race team that's set to hit the road later this year.
Scott's tried to get vets more hands-on experience with other racing organizations, but the conflicts were frustrating to the point that he just started his own team.
"No other teams would work with the vets," he said.
His Scott Racing two-seat truck competed in the Kingman SNORE 250 race in 2015. The truck has also raced in Laughlin and Parker.
The crew had to crawl through the window to get in, but the new three-seater will have opening doors to allow amputee veterans easier access.
The truck won't be racing in the upcoming BlueWater Parker 425 race in February, but Scott and crew will be at the event to volunteer in any way they can – one way of getting everyone away from the real world for a few days.
"It's not just racing," he said. "It's everything to do with racing."
U.S. Army veteran Robert Liles, 34, and his brother Daniel, 32, a soldier with the Arizona Army National Guard, are slated to be the first two vets to ride in Scott's new truck. Robert's been involved with off-road racing for about four years and this will his first event as a member of Race to Erase 22. He's had his hands in everything from mechanics to pit crew to safety.

"Since I've been friends with the local racing community I've done anything to help out," Robert said.
The hobby is a way for him and other vets to tune out the constant barrage of negativity.
"It's going to give us the opportunity to meet other vets of the same interest and be that one thing everyone likes that gives them a bit of freedom," Robert said.

The truck teams are almost like military teams, more specifically, a Humvee crew. Scott barrels down the trails at up to 140 mph over three-foot berms while a passenger (two passengers in the new truck) monitors fuel, temperature, oil pressure gauges, mirrors and GPS. A heightened sense of exhilaration reverberates through the radio all the way from the pits to the cab.
"They have a blast," Scott said. "You can hear it in the helmets."
Scott's mission continues to be a success, but not without the occasional scare.

"I had a guy tell me, 'if it wasn't for you, I'd have put a bullet through my head,'" he said. "Stuff like that gives me goosebumps."
Racing is an expensive hobby and there's not much financial reward. Scott has plenty of local sponsors chipping in, including TNC Machine (who is building the new truck), Performance Muffler and R E F Unlimited auto parts store.
"It takes so much money to do this," he said. "There's no way I could do this on my own."
But Scott and crew aren't in it for the money.
"In the end, when you see the smiles on their faces when they get out of the truck, it makes us happy," he said. "That's why we do this."
Veterans wanting to participate need to fill out an application and provide a DD 214 as proof of service. For more information on Race to Erase 22 or to help, contact Scott at R & R Hitches at 928-757-3020 or visit Facebook at www.facebook.com/RacetoErase22/?fref=ts.