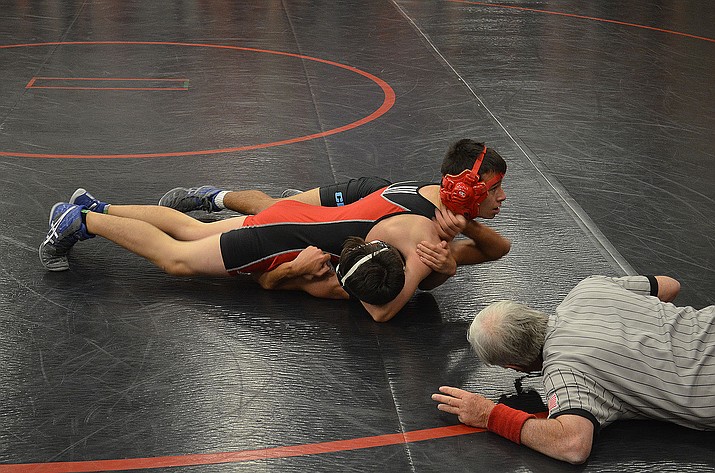 Photo by Aaron Ricca.
Originally Published: January 6, 2017 6:01 a.m.
KINGMAN – Lee Williams High School wrestling coach Dan Ondrejka has to be pleased with where his team is at heading into this weekend duals at the Joseph City Invitational. Though Lee Williams came up short yesterday going 0-2, after traveling to Phoenix and losing to Buckeye and Thunderbird by identical 41-36 scores, the Volunteers are currently 17-7 on the season.
"It was tough," Ondrejka said. "Unfortunately we didn't come out on top. Each dual was within one match against two really good programs. We just have to move on, learn from it and get back into our routine."
Lee Williams had five athletes go undefeated at 2-0. Jimmy Wayman at 126 pounds, Nic Verville (132), Zac Sanchez (138), Hunter Strugill (145), and Daniel Mazon (152).
"No way had I thought when the season started we would have the record we do now," the coach said. "We are still in winter break and kids are just coming back from the holidays with family."
The Vols currently has five wrestlers with over 20 wins on the season so far. Wayman is 24-3, Sanchez 21-3, Dylan Shaffer 21-6 at 170 pounds and junior Edmond Ashton is 23-4 at 220.
"This is a great group of kids,"Ondrejka said. "Jimmy is young with a ton of potential, Dylan is always wanting to learn more, Edmond is a first-year guy and extremely coachable, and having Zach's knowledge in the room is a huge asset to the team."
Nic Verville is 27-0 at 132 pounds, and is ranked No.1 in the state at that weight. His performance this season has been so dominant he has yet to give up a takedown.
Verville has some serious goals this season and is living up to them. He has taken third at state two years in row and wants to make it to the big show. Ondrejka thinks Verville has grown as a leader and a mentor to the younger guys on the team, and his leadership is evident with his performance this season.
"This team as a whole continues to surprise me daily," Ondrejka said. "The kids have really bought into the program, which is nothing flashy; we are focusing on fundamentals."
Lee Williams wrestles at The Joseph City Invitational at 9 a.m. today and Saturday.
More like this story