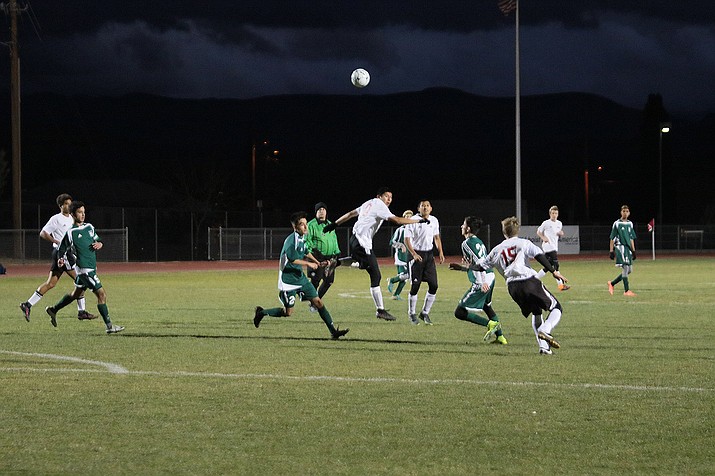 Photo by JT Keith.
Originally Published: January 8, 2017 6 a.m.
KINGMAN – Lee Williams' boys soccer team was competitive against Flagstaff for the first 37 minutes at home Thursday night. The Vols suffered a defensive lapse in the last 40 seconds before the half to turn a one-goal game into a 4-1 loss.
The Eagles scored the game's first goal on a corner kick with 12:45 remaining in the first half. Not to be outdone, Vols sophomore Jose Castaneda scored on a direct kick to tie the game with 8:35 remaining in the half.
"Jose is an amazing player," coach Gabe Otero said. "He has a great touch on the ball, and when we had the chance with the direct kick, I chose him to kick it. He made a great shot."
"I was trying to communicate with my brother (Carlos)," Castaneda said. "I was trying to ask him if I should kick it head on or finesse it and try to get it on the opposite post and hope it goes in. I looked at it and thought this is my shot, and I kicked it in."
The Eagles (3-2, 1-0, 4A Grand Canyon Region) kept the ball in the Vols' (4-8, 0-1) end of the field for the last four minutes before the half, scoring their second goal to go ahead with 3:09 remaining to take a 2-1 lead. The score came after a cross from the left-wing and was headed in.
"The last 5 minutes we stopped pressuring the ball," Otero said. "The cross should have been challenged, and that would have never happened if we were pressing how we should. These are great boys, and I'm extremely proud of them as they continue to push themselves."
The Vols will return to the pitch at 3 p.m on Tuesday at Coconino.
GIRLS SOCCER
Flagstaff 5, Lee Williams 0
At Flagstaff, first-year coach Jessica Brinkerhoff coached her final game in a 5-0 weather-shortened loss to the Eagles Thursday.
During the match, the Lady Vols faced winter on the pitch. There was rain, sleet and snow that caused the match to be shortened by 15 minutes.
"The girls passed the ball well," Brinkerhoff said. "Flagstaff is a really good team. I'm going to miss my girls."