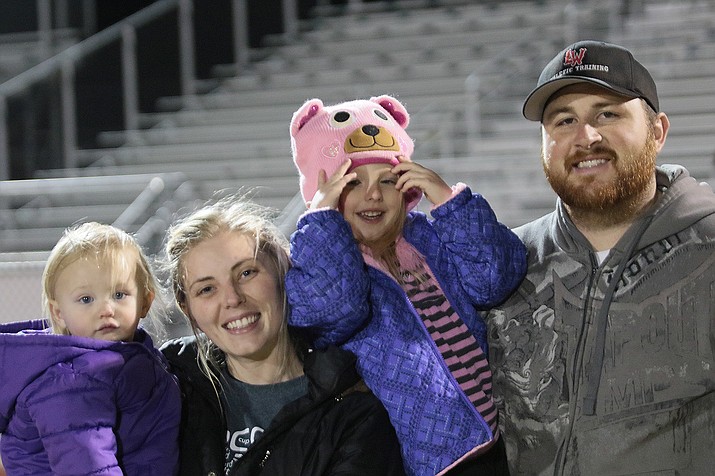 Photo by JT Keith.
Originally Published: January 9, 2017 6:01 a.m.
KINGMAN – As the clock ticked down and the Lee Williams boys' soccer team jogged to the sidelines to shake hands with the Flagstaff players after losing Thursday night 4-1, Volunteers soccer coach Gabe Otero talked to his players and then let the players talk to and hug athletic trainer Jess Brinkerhoff.
While checking to see if his athletes were OK, Brinkerhoff looked downcast knowing this would be the last time he would be in this official capacity as the trainer for Lee Williams' athletics. He knew this was goodbye.
Brinkerhoff is leaving to become the head athletic trainer's job at Utah State University Eastern. He and his family will live in Price, Utah.
"I applied to that school," Jess Brinkerhoff said. "It is probably the closest job I will be able to find to my family. "It is a small town, probably about 10,000 people, a little better job, benefits, and pay. Kingman has been really good to us."
His wife, Vols girls' soccer coach Jessica Brinkerhoff had just lost her final game to Flagstaff High School 5-0. As the game ended and she made her way onto the field with her two daughters Jocelyn ,4, and Juliet, 16 months, while coaches, parents and athletes came up to hug her and tell her how much they will miss her.
"We are super excited and we are super sad," Jessica Brinkerhoff said. "Kingman has been so good to us.
"My husband has been crying. It has been rough, because we have fallen in love with the kids here and that's what makes it hard to leave. There's something different here at Williams."
Jessica Brinkerhoff is taking with her and her family the backstory of how the Volunteers received their name. She remembers how 11 volunteer firefighters lost their lives, in the tragic Doxol explosion in 1973 and that is why she won't forget them or the traditions started here. Or the chant the girls' soccer team does, at the beginning and end of each game.
"I didn't expect to fall in love with 40 girls," Jessica Brinkerhoff said.