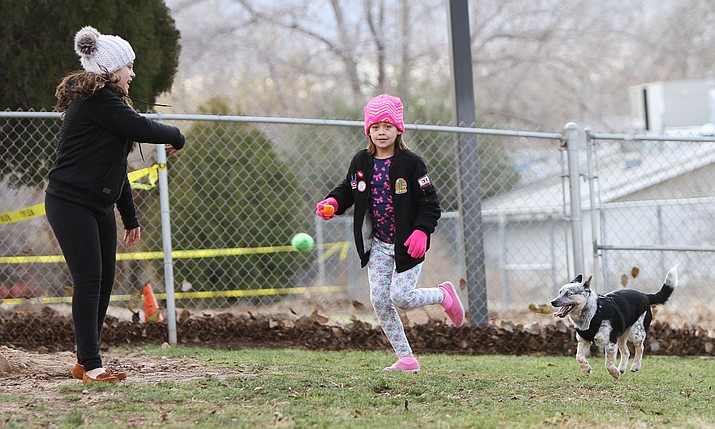 Photo by JC Amberlyn.
Originally Published: January 10, 2017 6:03 a.m.
Every dog might have his day, but not every dog has his own park.
There must be something about owning a loving dog. If someone recently moved here and were looking for a place to walk their dogs between football games on a Sunday afternoon, where would they go?

While there's no park where a person could walk a dog, Lewis Kingman Park is the next best thing, but finding it can be tricky. It looks good on the internet, and easy to find. But if you don't have a GPS and are driving to it, chances are you'll drive right by, get frustrated, give up and go home.
The drawback in trying to get to the park was that there were no dog signs on the boards advertising the park. A person wanting to walk their dog would have to turn into the park before they would see signs for dogs being welcomed.
There are two dog pens with wide open areas for dogs: one for small dogs under 30 pounds and the other for big dogs to run and play until their heart's content. But a dog owner still cannot walk their dog on a leash.
"There are no regulations as to what breed of dogs are welcome," said Ryan Fruhwirth recreation coordinator for the city of Kingman. "However, it is the owner's responsibility to keep their dogs under control while in the park. There are no staff present to monitor the facility. And like all parks in Kingman, you utilize the facility at your own risk. There are no pets allowed on any other city of Kingman parks."
Meeting at the park is a good way to socialize, meet friends and relieve stress, and a good, safe way for dogs to exercise without fear of being attacked. Going to the park at different times of the day seemed that it was a shift of regulars that would bring their dogs to run for 20-30 minutes a day. The dogs would run and play while the owners talked. It was sort of like the movie, "Must love Dogs."
"I did some searching on dog parks at the hotel I was staying at last night," Rachel Bush said. "This doesn't actually come up as a dog park if you google it, it comes up as a park."
Bush is moving from New England to Pasadena, California, and spent the night at a local hotel. She was desperate to exercise her dog (Tupelo) and could not find a dog park online. She drove to this park in hopes it would be a place she could exercise her dog, and found relief when she turned into the park and saw the sign that advises dogs are welcome.
There is a list of do's and don'ts listed on a fence as dog owners enter the facilities.

"We probably receive on average, one call a week," Fruhwirth said. "From a park patron with a suggestion, a report or a request. We have a good working relationship with these fine folks and they truly care about their facility."
According to Fruhwirth, The Kingman Parks and Recreation Department also is in the process of adding another section at Louis Kingman Park. The area will be located south of the rest rooms over by the small maintenance building.
This area will enable Lewis Kingman Parks to rotate sections and keep one area closed long enough and allow the turf enough time recuperate from the damage done by the traffic. Staff is installing the area now and it should be ready this summer.
While the citizens of Kingman are grateful for this park, a few would welcome a park or track to be able to walk on with their dogs so both could exercise.
Lewis Kingman Park is located at 2201 E. Andy Devine Ave. Another dog park in Kingman is Mohave County's Neal Butler Park, located at 4890 N. Bank St.