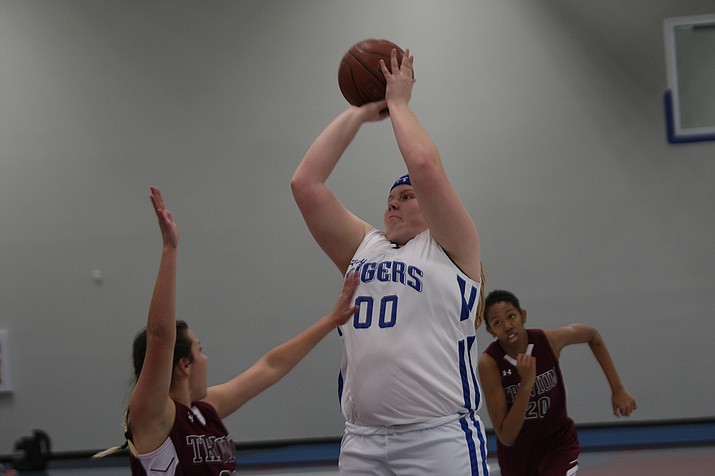 Photo by JT Keith.
Originally Published: January 11, 2017 6 a.m.
KINGMAN – Kingman Academy first-year girls basketball coach Garth Steed knows a lot about hard work. Steed used to be a potato farmer in Malta, Idaho. Now he is a farm manager in north Kingman. Steed knows hard work is the life a potato farmer: planting, digging, speaking to and praying over his potatoes without any guarantees. As a potato farmer, Steed has weathered bad seasons along with good seasons. The one constant in farming and coaching a basketball team is the process of continually digging, hoping and trying to have it better.

No matter how this season ends for the Lady Tigers it has already been a success. This basketball team has endured players quitting as Steed changes attitudes and installs a new culture. With Friday night's 38-22 win over Trivium Prep, this gives the Lady Tigers a two-game winning streak. With the adjustments Kingman Academy has won more games this season- two-.
"A lot of these girls haven't played in a system that made them work," Steed said. "Coming right in we started out with 18 girls and had three quit during tryouts and last week for personal reasons. There is nothing I can do about it. The program hasn't been built to where it should be."
Steed watched from afar last season and thought he could help. He had been a head coach at River Raft High School, in Idaho, leading them to a fourth-place finish at state. Steed has always loved basketball and working with kids. He played basketball in high school and wanted to convey his good experience with the players he coaches.

"I have loved basketball my whole life," Steed said. "I want to pass on my love for basketball to the girls. I want them to have a camaraderie with the girls they play with, and when they are done with school and basketball they can look back and still be friends with their teammates and coaches."
Steed wants to win, but more importantly he wants his team to improve as players and as a student which is why he chose Kingman Academy for his daughters, Amberlee, a senior and the team's leading scorer, and Ashlee, a sophomore contributor who comes off the bench.
The most telling thing is, after Friday night's game, a referee walking past Steed to go to the court to referee the boys varsity game stopped and said, "Coach, I love watching how much your girls have improved over the course of the season."
The Lady Tigers started the season 0-8 and now are 2-8 and undefeated in region. Steed emphasized the positives to his team, that even though they were losing games they were competitive and in every game. He felt if his team continued to play together they would win this season.
With only two seniors (his daughter) and one of them out with injury, the Lady Tigers have had to play a lot of young players. With the second half of the season left, Steed knows there is plenty of digging and hoping left in this season.
More like this story