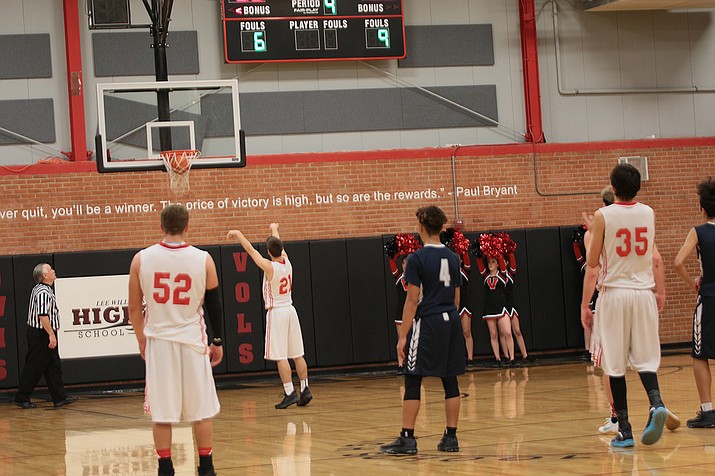 Photo by JT Keith.
Originally Published: January 11, 2017 6 a.m.
KINGMAN – With 3:51 left in the third quarter, Lee Williams basketball coach Cain Atkinson yelled loud enough for the whole gymnasium to hear: "Is that how you coach your kids?" A stunned Tempe Buffaloes coach, Tom Saltzstein, looked around shocked, and asked, "Who is he talking to?" and without missing a beat, Atkinson looked at him, pointed to him and said, "You."
With that both coaches started to walk toward each other as the officials and Lee Williams Athletic Director Jacob Iodence ran to the middle of the scorer's table and separated both coaches.
A technical foul was called on Saltzstein and the incident seemed to fire up the Lee Williams players as they played with an intensity to match that of their coach en route to a 61-54 victory at home Saturday night in a nonconference game.

"Hey, man," Atkinson said. "He was just yelling and cussing at his kids, and I saw him shove a kid. I can understand him being competitive, but that stuff shouldn't happen. You don't talk to your kids like that. I understand that's not my team and it's not my place to say anything, but that's not right. You don't talk to your kids like that."
"Where does he get off trying to tell me how to coach my team?"Saltzstein said, "and telling me how to talk to them?"
Lee Williams boys' basketball team came into the game looking to end a two-game losing skid.
All game long the Vols had trouble stopping the tandem of Naseem Vigil and his brother Allan Vigil. Both created nightmare matchups for Lee Williams' defense. Both players had no trouble creating space and penetrating the lane with their spinning moves for easy baskets.
Three technical fouls were called on the Buffaloes. One on an assistant coach, another on the bench and a third on Saltzstein in the third and fourth quarters. With those technical fouls the Buffaloes turned an evenly match game into one where they were playing from behind and unable to close the gap.
After the game, both coaches called their team over and talked to them before they walked in line to shake hands. Both coaches stayed at the end of their bench and when they finished shaking the player's hands, each abruptly turned the other way and headed to their respective locker rooms.
"I tried to shake his hand before the game and he didn't try to shake mine," Saltzstein said. "I tried to shake his hand after the game and he didn't try then."
"No. He didn't try to shake my hand," Atkinson said. "I looked for him before and after the game."
"I love this team," Atkinson said. "I like where we are and how hard we play. I'm proud of them and to coach them, we'll be OK."

A.J. Herrera hit six 3-pointers as he was the Vols high scorer with 25 points.
Kale Juelfs and Marco Narvarte each scored 10 points.
Lee Williams (9-6, 1-3 4A Grand Region) travel to Mingus Union on Tuesday, for a 7 p.m. tip.