Originally Published: January 12, 2017 6:04 a.m.
Updated as of Thursday, January 12, 2017 2:09 PM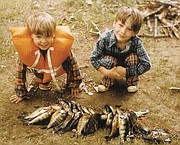 This information was provided by Kingman Police spokeswoman Jennifer Sochocki:
"Today, the Mohave County Medical Examiner's Office has positively identified the human remains located in a remote area east of Kingman this past Saturday as those of Sidney Cranston, Jr. The medical examiner utilized dental charts for verification. Investigators continue to work diligently on the investigation as other aspects of the case remain open.
KINGMAN – The emotions that poured from the voice of Chris Cranston as he spoke about the possible discovery of his missing brother's body encapsulated 19 months of heartaches and mystery.
"It's him. I know it's him. No question about it," Cranston said Wednesday in a phone interview from his home in Charlotte, North Carolina. "It's what we've been asking for. It's not what we wanted, but it starts the healing process."
Kingman Police Department reported Tuesday that they may have found the remains of Sidney Cranston Jr., the real estate agent who went missing in June 2015 under suspicious circumstances.
The human remains were found Saturday in a remote location that has not been specified, other than it was east of Kingman. The death of the man found has been ruled a homicide caused by gunshot. Positive identification of the body is pending.
Kingman police, Mohave County Sheriff's Office and the FBI have been working on the case.
Chris Cranston said it was tough to lose that "last thread of hope" that his brother was still alive.
"It's different. We're on a path to a better place than we've been in the last 19 months," he said.
Cranston said his father, Sidney Cranston Sr., was "very thankful" when he got the call from Kingman Police Chief Bob DeVries. They had already speculated that Sidney Cranston Jr.'s body had been found from questions they were receiving.
"My dad's a hell of a man, stronger than I can ever imagine," Chris Cranston said. "He's my brother, but he's my dad's son. I have a son. Losing your son … it's worse than losing your brother. It's just hard on the family, just horrible. I feel like he lost the wrong son. He (Sidney) was a better dude than me."
Cranston sang the praises of FBI special agent Desirae Tolhurst, whom he said was a "catalyst" in solving the missing person case. She was like "family" throughout the investigation, the only person who would listen to the family and respect their feelings, he said.
Cranston's focus now is flying to New York to pick up the remains of his brother and getting him laid to rest. That'll take the family a little further in the healing process.
Then it's on to bringing justice to Sid Cranston's killer. Police have zeroed in on Al Blanco, a friend who owed money to Cranston, as a person of interest.
Blanco managed Cranston's rental properties and had collected about $1,600 the day Cranston went missing.
Blanco was hospitalized a week after the Cranston case was featured on the "Crime Watch Daily" TV show, reportedly from an overdose.
"He didn't kill himself, but he tried," Chris Cranston said. "This guy is the scum of all scumbags. I'd like to see him put to death, and I'm not a big proponent of the death penalty."
Cranston said he spent three weeks living with Blanco when he came to Kingman looking for his brother. He fell in love with Blanco's family, went to his kid's soccer game, and went searching for Sid with him.
"This was his good friend. This was not a bar fight or road rage," Cranston said. "He had hundreds of opportunities to come clean. Tell us it was an accident, it was self-defense. He got too far in debt to my brother and killed him."
Suspect arrested on murder charge
Deputy Police Chief Rusty Cooper late Wednesday said Al Blanco has been arrested and charged with murder in the death of Sidney Cranston.
Blanco, 61, of Kingman, was arrested at a care facility in a Phoenix suburb and booked into the Maricopa County 4th Avenue Jail in Phoenix. KPD detectives obtained a murder warrant from the Mohave County Attorney's Office. The warrant was sent to the FBI, which responded to a care facility in a Phoenix suburb and took Blanco into custody on the warrant. Blanco will be extradited back to Mohave County in the near future. The case is still an open and active.
Related Stories