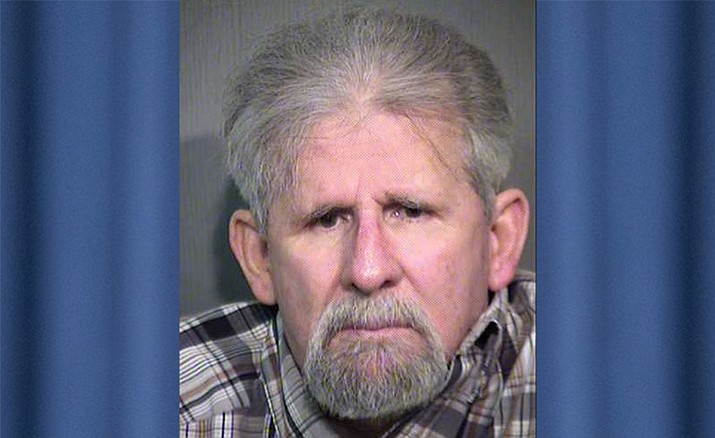 Originally Published: January 14, 2017 1:36 p.m.
KINGMAN – Al Blanco, the man charged with first-degree murder of 40-year-old Sidney Charles Cranston Jr., made his initial appearance before Judge Benjamin Haney in the Cerbat/Kingman Justice Court Saturday.
Cranston had been missing for more than a year and a half after he vanished from the Kingman area.
FBI personnel converged on Sunview Health & Rehabilitation Center in Youngtown after receiving an arrest warrant from the Mohave County Attorney's Office, and arrested Blanco who had been staying there.
Blanco was booked into the Maricopa County 4th Avenue Jail in Phoenix Wednesday and subsequently was transferred to Mohave County Jail in Kingman Friday for his scheduled initial appearance in court Saturday.
The 61-year-old Blanco was not physically present in the court room, but appeared via TV from the jail. He sat quietly and subdued in a wheelchair, and was almost unrecognizable from what he looked like in 2015. His hair and beard had turned grey, and his right hand appeared to be injured. Blanco only spoke when the judge asked him questions.
Judge Haney asked Blanco his full name, age, current address and if he was currently working. The judge read the criminal charges filed against Blanco and asked if he understood the charges.
"Yes," Blanco answered.
Haney asked if Blanco was represented by an attorney. After Blanco said he wasn't, the judge told Blanco he would appoint a public defender to represent him.
At the conclusion of the hearing, Haney told Blanco he would be remanded into custody on "non-bond" until the preliminary hearing scheduled at Kingman Justice Court at 8:30 a.m. Jan. 20.
Mohave County Attorney's Office Prosecutor Bob Moon did not speak during the court hearing, but did talk with the spectators after the hearing. He told the gathering of Cranston supporters the procedures on how the case will continue through the court system.
Also present prior to, during and after the initial appearance of Blanco, was Mohave County Attorney Victim Witness Program Director Shawna Logsdon. After the hearing, Logsdon answered all questions from those in attendance.

On June 16, 2015, the day he was last seen, Cranston collected about $2,500 from property rentals and was scheduled to attend a meeting later that day with Kingman City Council regarding his property at 3405 Hodges Road. Cranston, according to friends, failed to attend the meeting and did not return to his friend's house where he was staying during his trip to Mohave County.
Cranston's remains of were discovered Jan. 7 buried on an 80-acre parcel of private property owned by Don and Karen Bishop after a search warrant was executed. The basis for the search warrant was because of information provided by Blanco's friend, Bill Sanders, who told law enforcement personnel the location where Cranston's body was buried.
Related Stories
More like this story