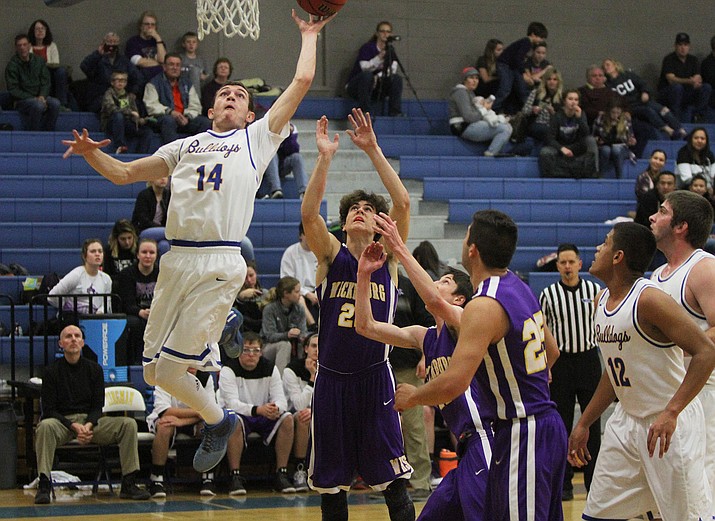 Photo by JC Amberlyn.
Originally Published: January 15, 2017 6 a.m.
KINGMAN – Kingman boys' basketball coach Nick Juby is a glass half full type of guy. He knows his team is playing hard and on occasions well. What he can't buy is a win. On Friday night in a shootout with the Wickenburg Wranglers his team came up short in a 75-67 loss at home.
"We came out tonight and played like the team I knew we could be," Juby said. "We played with a fire and passion that had been missing for several weeks. We also played five as one and it was beautiful."
The Bulldogs' (5-15, 0-3 3A West Region) received a balanced scoring attack led by Elijah Howery and Anthony Pinto each had 17 points and Jordan Dupee added 14.
All game long the Wranglers had the stroke going from beyond the arc hitting 10 3-pointers to put the game away.
"I thought our defense played well," Juby said.
Losers of five straight games, Juby is holding onto hope that this is a sign of good things to come for the rest of the season.
"It is odd to say after a loss," Juby said. "I like the direction we are headed right now. "We are really starting to play more and more as a team, if that continues, we should be able to make some noise these final three and a half weeks of the season."
Kingman plays at River Valley at 7 p.m. Tuesday.
More like this story