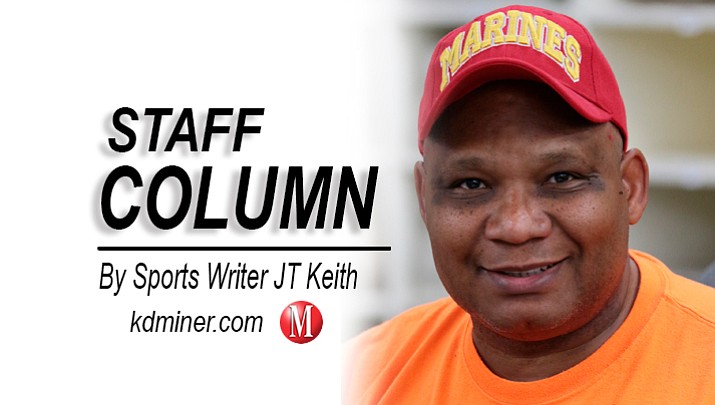 Originally Published: January 15, 2017 6 a.m.
I would be hard-pressed to tell anyone how to coach. In sports writing, there are strict rules about not cheering in the press box and no favoritism with athletes or coaches. Sports writers are taught to be objective.
That all becomes difficult the more I'm around our local teams.
I know these athletes and coaches. I visit them during the week at practice. I see them when they struggle with a shot or when they need to guard someone. I see how they are timid with their confidence when no one else does.
So, when they conquer an opponent and, most importantly, themselves, heck yeah, I cheer. I cheer for them learning to win and overcoming obstacles they will continually face in life as they get older. I cheer when they learn to handle triumph and defeat from one day to the next.
I feel for coaches that make a mistake and own it. When they say "I blew it. I cost us the game, hang that on me."
I care about coaches that take the blame and praise their players for victories. Most coaches do coach because they love the game and the kids.
Character is not only for the adolescents, or the chronically aged, but it is continually evolving in each of us even as adults.
I have a problem with coaches who blame their players for costing their team a victory. Maybe if a coach had coached better or helped their players learn the game plan well enough they would have won the game.
Coaches are role models and put themselves out there every day, regardless of what is going on in their personal life. Coaches care enough about giving back and want to help shape kids' character.
Coaches reinforce morals, ethics and values taught at home. Things like teamwork, sacrificing personal goals for team goals, integrity and character.
Coaches teach how to deal with people from diverse ethnic and economic backgrounds. Coaches impart the ethos to kids to be better athletes and people. Yeah, I cheer when all coaches succeed, because they have to live with being second-guessed.
I'm totally neutral when Kingman, Kingman Academy and Lee Williams play each other. I like all the athletes and coaches I have dealt with.
What I witnessed a week ago Saturday as the Lee Williams boys basketball team played against the Tempe Buffaloes was disgusting. Buffaloes coach Tom Saltzstein stepped over the line and made people feel uncomfortable enough that an opposing coach (Lee Williams' Cain Atkinson) had the courage to say something loud enough to almost cause a riot.
Saltzstein was demonstrative in his actions and his voice boomed a loud delivery to his players. He insulted his team for bad fouls or taunted them if someone scored on them. Saltzstein never took blame for anything happening on the court. He yelled at one of his players, and as he took each player out their shoulders slumped walking with their hands on their hips and head down to the bench.
"That's why I took your * out, and you're sitting the bench," Saltzstein said loud enough for the whole gym to hear. Finally, after he could not stand the insults and abusive language anymore, Lee Williams head coach Atkinson walked over to the scorer's table and boomed for the whole crowd to hear, "Is that how you coach your team?"
Shocked and unaware of what was happening, Saltzstein said, "Who is he talking to?"
Atkinson said, "You."
And before you knew it a melee nearly erupted as Lee Williams' athletic director, Jacob Iodence, came out of the stands and stood between the two men as officials separated them and the teams were sent to their respective benches.
Atkinson is an intense competitor and there is nothing wrong with that. If I had a son and he was at Lee Williams, I would want Atkinson to coach my son. I believe he is teaching life lessons.
Is Atkinson demanding? Yes. He cares enough about his players to prepare them for life after he is not able to coach them.
I love the intensity and character of Atkinson and his fearlessness to speak up for not only for his team, but for players on the opposing team as well. Winning at any cost is not what Atkinson is about. Atkinson's character was revealed after he defended another team's players that could not defend themselves.
Lee Williams should be proud that Atkinson is their coach.