Photo by JC Amberlyn.
Originally Published: January 16, 2017 6:04 a.m.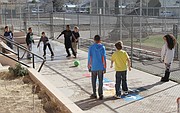 KINGMAN – The core beliefs of the Boys & Girls Club of America are simple: Give children a safe place to learn and grow. Provide them with a caring professional adult with whom to have an ongoing relationship. Provide life-enhancing programs and character development experiences, and most importantly, give them something every human being wants, adult or child: Hope and opportunity.
All this and more is available at the Boys and Girls Club of Kingman, where parents can feel their child is not only safe when he or she is dropped off at the downtown club, but that they are going to learn something.
Here's a refresher course for parents interested in ensuring their kids have somewhere worthwhile to spend their time.
What is Boys & Girls Club?
The Boys and Girls Club is a national federation that has been around for 150 years. The one in Kingman has been open since 1994. It started out as a Boys club, where a group of women waned to keep boys out of trouble so they started doing things with them after school. Today the club serves over 4 million youths worldwide.
The national organization Boys & Girls Club of America provides all the programing used in all clubs. The program is for after school and when school is closed, and is open in the summer, currently serving kindergarten through eighth grade.
Ward named CEO
Bill Ward is the chief executive officer of the Boys and Girls Club of Kingman, and has been since April 2013.
"The board of directors and I believe that we can impact the lives of kids if they are here three days a week," said Ward.
Changes Made
Security has been upgraded at the club. Parents and kids used to be able to walk into the club at any time. Now, there is a front door person on guard when the kids are there. Only members can walk through the club, all parents must wait or be escorted by a staff member.
The club focuses on enriching the lives of kids. They have shifted their attention to technology, the arts, and physical fitness. Ward believes if a child comes to the after-school program they can get an hour's worth of physical activity daily, and if they come on Friday they will get three hours of physical fitness.
"I like coming here where you can meet new people instead of staying at home, said Aidan, 9.
They do drills, boot camp workouts, soccer training, football, basketball, agility testing, also hopscotch, twister, four square, yoga, line tag.
What's new?
In 2017 the club will implement STEM technology (science, technology, engineering and math).
The technology room is for kids ages 11 and up. The sixth, seventh and eighth graders will create an application for an Android phone. Ward has started a program called the Crazy Eights for seven and eight-year-olds, in the math room.
Crazy Eights is a math program that focuses on math, but is designed to be fun.
"Expect More Arizona tracks the education al system in Arizona," Ward said. They recently released the results of the Arizona Merit Test in Mohave County, it showed that only 32 percent of third graders can read at a third-grade level, and 33 percent of eighth graders can pass an eighth-grade math competency test."
The club also has a new computer lab donated by American Woodmark Corporation with 22 new computers.
How to Sign Up
It is open to any individual who is enrolled in any school in Kingman. Kids in kindergarten through fifth grade are bused to the club after school. To sign up, go to www.bgckingman.org, go to the center of the page and click the link.
"Our future is bright," Ward said. "Our goal for 2020 is to have a facility that serves all school age children."
Ownership and Cost
Each club is owned and operated independently. The Kingman club has its own 501 c3 nonprofit status. The Kingman Club is responsible for 100 percent of raising its own funding. It costs the club about $2,000 per-year per child and the fees are 18 percent of $2,000.
Membership fees are $15 per calendar year, and the after-school program, which covers a child from January through May, and August through December is $85 a year. When school is closed, it is $10 a day. The club will give a scholarship up to 50 percent of the cost for families that need assistance if they qualify via their tax returns. Last year the club gave out $22,000 in scholarships.
"One of my biggest concerns when I took over was making sure that kids don't have barriers, and one of the biggest barriers is social services," said Ward.
Growth
In 2016 the club served 367 kids, up from 312 in 2015. Children who are members are the club's best and biggest advertisers.
Hours
Open Monday through Friday closed major holidays. Monday-Thursday after school hours, 2:30 p.m.-6:30 p.m. Fridays 7:30 a.m. to 6:30 p.m.
More like this story