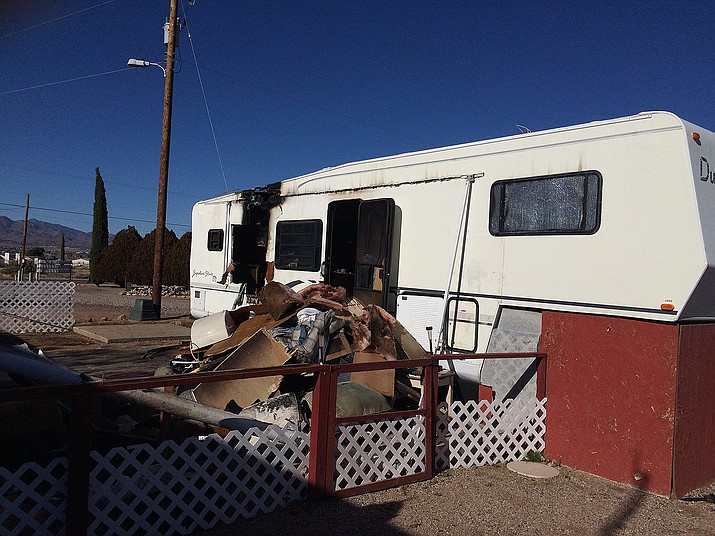 Photo by Aaron Ricca.

Originally Published: January 17, 2017 6 a.m.
KINGMAN – A faulty refrigerator caused a fire that destroyed a travel trailer early Tuesday.
According to Assistant Fire Chief Keith Eaton, at least four engines and an AMR ambulance responded to the scene of a fifth-wheel travel trailer. Heavy smoke and fire was billowing out of the side and roof of the trailer at an RV park in the 3600 block of Sunshine Drive around 12:45 a.m.
The trailer served as a permanent home and crews immediately began fighting the fire from outside the trailer before they entered the structure to continue the attack. They were told the resident had exited the trailer and an interior search proved people and pets were not inside.
Firefighters began the overhaul process once the fire was contained. The trailer's construction and heavy contents made gaining access time consuming and they stayed at the scene until approximately 7 a.m.
The lone occupant said a smoke detector alerted him to the fire. He called 911 and exited the trailer. An initial investigation points to a faulty refrigerator, which the occupant said had been "acting up" all day Sunday. The trailer was a total loss and no dollar figures are available at this time. There were no injuries and the man is staying with family at this time, according to Eaton.