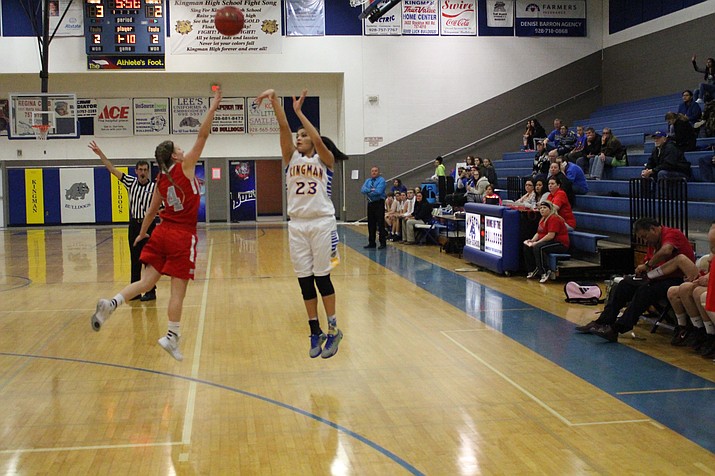 Photo by Shawn Byrne.
Originally Published: January 18, 2017 6:01 a.m.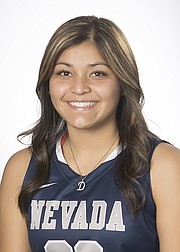 KINGMAN – One of the last memories Desirae Gonzalez has of her high school basketball career is when Kingman traveled to Buckeye Union. On Feb. 3, 2016, with 4:00 minutes remaining in the first quarter Buckeye Union held the ball. Trailing 4-2, the Hawks looked confused as the Lady Bulldogs sat in a rare zone defense.
Buckeye Union's point guard threw a lazy pass that was intercepted by Gonzalez. As she took off down the right side of the court, she was trying to do a euro move and at the last second the Buckeye defender moved underneath her and bumped her. Gonzalez's leg went one way, and her body went another. She remembers hearing a pop and feeling a burn in her knee. Gonzalez would leave the game and not return. Later, it was determined that she tore her ACL.
Gonzalez signed her letter of intent to attend the University of Nevada Reno on Nov. 11, 2016. When her future college coach, Jane Albright, found out about the injury, she continued to show faith in Gonzalez and honor her scholarship.
"I believe she is a great player and worth waiting on," Albright said. "She's a great character kid. We are super happy to have her here."
Gonzalez missed the first 10 games of her freshman college basketball season. Determined not to redshirt, Gonzalez's days have started at 5 a.m. and ended after 6 p.m., which included workouts in the weight room, swimming pool and an ACL trainer to help her gain her strength back in hopes of getting back on the court by conference play. She has spent the past nine month since surgery rehabbing 12 hours a day.
University of Nevada-Reno doctors cleared her to play on Dec. 28, 2016. Gonzalez has played in five games since being cleared and has shot 6-of-13 from the 3-point line scoring six points against San Jose St. and San Diego St.
UNR doctors have limited Gonzalez's playing time to make sure she is fully recovered. In two of the last three games her court time has increased from eight minutes up to 13 minutes.
"I'm still in the process of adjusting to the game," Gonzalez said. "There are time protocols for ACL injuries. I'm still adjusting, and my game will start to come back to me as muscle memory takes over. Even if I didn't have the ACL, I would have to adjust to the speed of the game."
UNR is playing Gonzalez as a stretch four – which is a post player in their system. She will be almost like a trail post-high post player where she can step out and hit the three-point shot. As her career progresses, they plan to use her as a shooting guard.
"She would have pushed to be a starter had she not been hurt," Albright said. "We really recruited her to play a lot, and we think she is a role model in what a student- athlete should be."