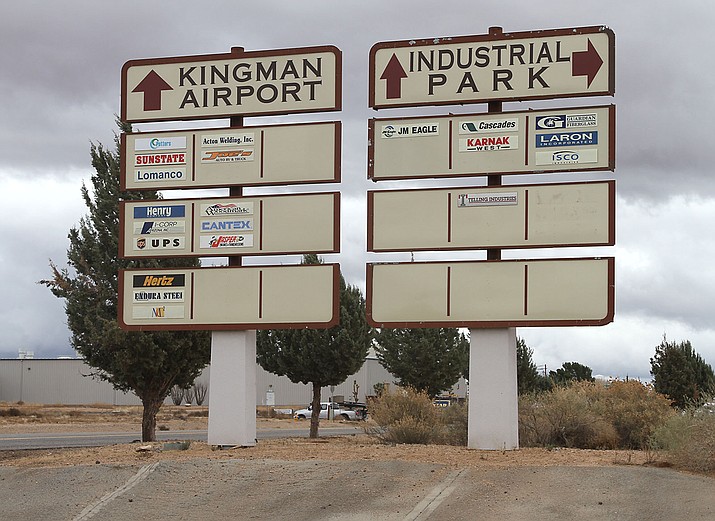 Photo by JC Amberlyn.

Originally Published: January 19, 2017 6:03 a.m.
KINGMAN – City Council agreed Tuesday to seek outside legal review – possibly from the Mohave County Attorney's office – of the Kingman Airport Authorities' 50-year amendment with the City of Kingman.
Mayor Monica Gates warned the audience that name calling and personal attacks against the council or KAA during public input wouldn't be tolerated during a tense discussion on the volatile topic of how the city should handle relations with the airport.
"I have every intention of negotiating," Gates insisted.
She read a statement specifying that it's the KAA board of director's responsibility to hire, direct and hold the executive director and economic developer responsible and accountable for airport deficiencies.
"Negotiation is the appropriate first step. I am asking that the council meet with the airport board, share our goals and expectations for the airport and industrial park and give the board the opportunity to put the airport and industrial park on a path to success.
"The airport users group presented a packet to the city council that contained recommendations from their attorney that they retained. The number one recommendation from the airport users group's legal counsel is dialog with the city."
That's the goal of a still unscheduled February workshop with the KAA. A facilitator will be present to observe a board meeting and interview the board and city council members individually.
"If this approach is not effective, I will absolutely support and pursue legal remedies," she said.
Councilman Travis Lingenfelter wants to include the KAA as part of numerous restructuring plans for the city.
"The city has chosen to take this new direction," he said. "It is certainly logical for the council to include the city's airport and industrial park assets as a part of that comprehensive and holistic examination."
Lingenfelter said the agenda item he introduced "wasn't actively looking to terminate anything" and "he was looking for legal counsel to identify the weak spots of that lease."
"Hope is not a method," he said. "You can hope for the best, but you need to plan for the worst, as well."
He wanted to know if an agreement with KAA can't be found, what areas of the current lease the Council could go after and that change needs to happen one way or the other.
Councilman Mark Abrams supported legal review. He asked about the possibility of amending or cancelling the contract, what the council would gain by doing so, and if negotiations would take place before or after a review.
"I think it needs to be clear where we're headed with it," he said.
Gates replied that negotiations should be a first remedy and that if it isn't successful, "that's when you pursue a legal opinion."
Councilwoman Jen Miles said she sees the need for improved management.
"How we get there has always been the issue," she said, and added that she supports Gates' plan for negotiations first and lawyers later.
Similar to the water workshop last week and the upcoming Kingman Crossing workshop scheduled for Jan. 31, a workshop for KAA relations is planned with no date set yet. Council has scheduled a facilitator to be in Kingman Feb. 15-16 to observe a KAA meeting.
"I would like to have one meeting with the board. I think that will immediately figure out the tone," Gates said. "I think we're going to get more done through negotiation than coming in armed with attorneys."
In other council news:
• House of Hops/Rickety Cricket Brewing was granted a Series 12 Restaurant Liquor License.
• Council approved bids from Peoria Nissan and Martin Swanty Chrysler Jeep Dodge for truck purchases for the city's Public Works department. The purchase will include three half-ton mid-size trucks and three two-wheel drive one-ton trucks at a cost of more than $95,000.
• Council approved a design contract for the YESCO, LLC Bullhead City office to begin work on the design phase of the proposed Beale Street Arch, slated to be built at a location between Grandview Avenue and First Street.