Originally Published: January 20, 2017 6:03 a.m.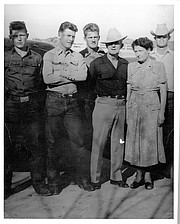 The tales of Arizona outlaw Tap Duncan have been rehashed hundreds of times over the last 125 years, by everybody and their brother, sister and distant cousin, and now the families will reunite in Meadview to face the skeletons in their closet.
Those skeletons have been kept private for all these years, through many generations and marriages, and now it's time to let them out.
Michelle Drumheller, great-great-granddaughter of Tap Duncan, is organizing a family reunion from March 31 to April 2 at Grand Canyon West Ranch, which was once the Diamond Bar Ranch owned by Tap Duncan, an outlaw-turned-rancher.
Drumheller is expecting about 200 people to attend the reunion, with relatives coming from all over the country.
"The cemetery in Kingman is full of Duncans and Hamiltons, who were related to the Duncans," she said in a phone interview from Baltimore.
Bob Boze Bell, who was recently inducted into the Arizona Music and Entertainment Hall of Fame, will be among the featured speakers at the reunion. He has a family connection to the Duncans.
At one time, Tap Duncan had the largest ranch in Arizona and possibly the country at roughly 1.5 million acres.
"It's pretty exciting," said 75-year-old Skipper Duncan, great-grandson of Abijay Duncan, now living in San Angelo, Texas. "This reunion will be the first ever of this group."
Some of the Duncans' history is chronicled in a book written by Chet and Kim Brackett of Owyhee County, Idaho, based on old journals they found left behind by their bachelor uncle.
"He wrote stuff that was so incendiary and damaging to the family, they closed the journal and it was never seen again for 20 years," Skipper Duncan said.
In the journals, the uncle confessed on his father's death bed that he and Tap Duncan had rounded up branded horses, not wild horses, as they had claimed about the time they went out into the desert.
"The dad said, 'You think that's bad. What I did with Tap Duncan is worse. We robbed the Winnemucca (Nevada) bank,'" Skipper Duncan related. "It's just one hell of a story. All of us who were kin to bank robbers will be at the reunion."
Family history
The Duncans were one of the most notorious families from San Saba, Texas, though little was written about them.
They married the Ketchums and ran with Tom "Black Jack" Ketchum and the Hole in the Wall Gang. Ketchum was hanged for train robbery.
Dick Duncan, Tap's older brother, was an American cowboy hanged for murder in 1891.
Ollie Duncan, Tap's wife, had two uncles assassinated on the San Saba County court steps, according to family journals. Her grandfather, Shorty Brown, killed a county prosecutor, but never went to trial.
The Duncans are related to Jesse James' family by marriage, and Tap Duncan is reported to have ridden with Butch Cassidy and the Sundance Kid, according to Drumheller.
Duncan killed a man named Billie Hays in Bruneau, Idaho. He almost died in the fight, and was found not guilty.
Drumheller said she's been digging through letters, court records and land deeds, and driving around the country gathering information on the Duncan family for the reunion and a biography.
"Finding my biological family has been a fun and interesting experience," she said. "Some were outlaws, ranchers and miners. A few of the family were hanged. Some were gamblers and associated with movie stars and writers and poets."
The Duncans and those married into the family are part of a unique Old West family. Some fought in the American Revolution, War of 1812 and the Civil War and moved across the United States by wagon and horse and helped settle the nation.
"Folks in Kingman may recognize the name of Tap Duncan and another Duncan descendant, Jimmy Carl Duncan," Drumheller said. "Both were larger than life to those who knew them. I believe the entire family and their history is what makes America great through hardship, success and a pioneering spirit."
Drumheller said it's taken a while to find family members, and it's still an ongoing process. She's looking for more Duncan family and friends who have stories and photographs. She can be contacted at 703-975-2373 or sawbigcat@gmail.com.