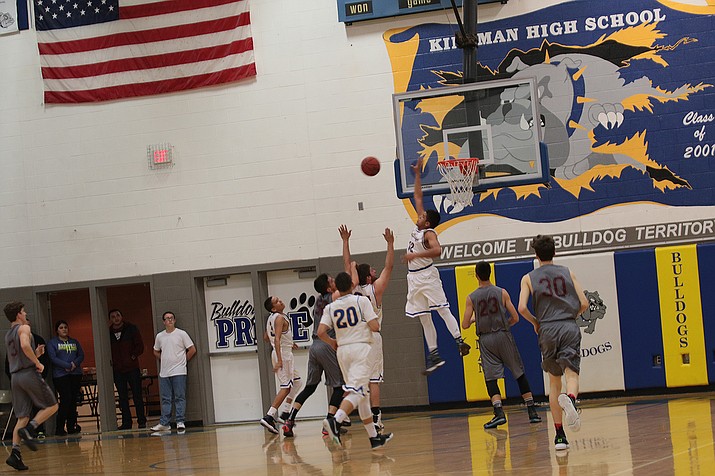 Photo by JT Keith.
Originally Published: January 22, 2017 6 a.m.
There is good news and bad news for Kingman High School boys basketball coach Nick Juby.
The good news is his team has a pulse and a chance in the region. His team has the talent and ability to take care of their own business these last five games and run the table. If they desire to do so.
When Kingman plays collectively and together, they can play with anybody in the 3A West Region. Anybody, as witnessed by starting Friday's home game against Odyssey on a 24-6 run.
The bad news is if they squabble and worry about who is getting their points, touches, and who is doing what, their season is doomed.The Bulldogs will be hard pressed to win another game if this is not squashed immediately, witness them being held to eight points in the third quarter, as the Bulldogs had to hang on to beat a young team that has won only two games this season, 62-58.
"We did play well in the beginning," Kingman senior Anthony Pinto said. "We kind of slowed down toward the end, but we won. I think we have a shot against the other teams (region) remaining on our schedule."
Pinto made several stops on the defensive end of the floor, and scored a game high 18 points. Bulldogs' point guard Elijah Howery made several steals and assists with the game on the line, as well as adding 16 points.
Howery has powerful quickness that enables him to get inside the paint and either get to the rim or dish for an assist. In this game, his power and quickness made it hard for any of Odyssey's guards to stay with him, and that was one of the main differences in the game. He could have scored anytime he wanted.
"We came out really flat," Odyssey coach Randy Hiatt said. "We played five freshmen tonight and they played some good minutes. We feel good about holding them to eight points in the third quarter. We played some really good defense."
"It's a win, it's a win," Juby said. "I'll take a win, if we win all the rest of our games by one point, I'll take it. We couldn't get anything going offensively and the momentum changed."
Juby talking about his team's narrow win and only being able to score eight points in the third quarter.
This team is vastly improved from the team that suffered a loss at home against Lee Williams earlier in the season.
Coach Juby's addition to the lineup of sophomore Jayzen Hundley, and the improved play of Tobias Bagby, makes this team a team that can win out and have a shot at region if they get some help.
Kingman (7-15, 2-3 3A West Region) plays at Northwest Christian for a 7:30 p.m. tip on Tuesday.