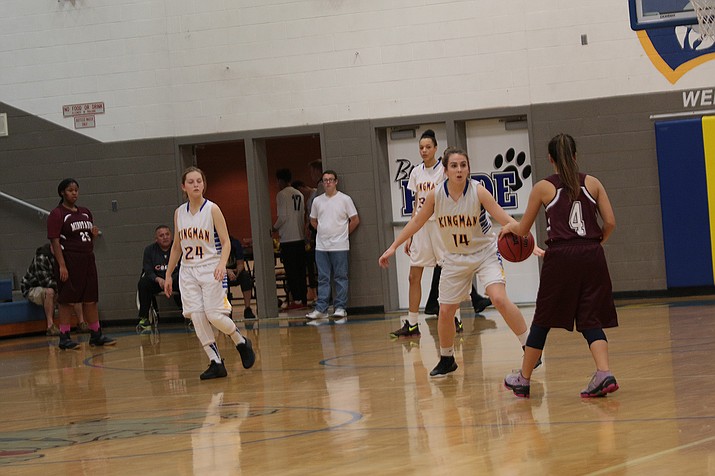 Photo by JT Keith.
Originally Published: January 22, 2017 6 a.m.
Kingman High School Lady Bulldogs coach Tony Kern didn't know what to expect when he arrived here this season from New Mexico. All he knew was that it would be a rebuild, a major one at that, after the Lady Bulldogs went to the state tournament last season and lost to the eventual champions, South Mountain. Off of that team was all-state guard Desirae Gonzalez, who is now at University of Nevada.
Kern wasn't sure of the effort he would get after losing a heart breaker to the No.1 team in the region, River Valley, 58-56 on Tuesday night. Not to worry though, Kern had his team pressing and changing defenses enough to bounce back at home Friday night and hang a loss on Odyssey Institute, 49-43.
"We started at a good pace," Kern said. "It felt to me like we couldn't come out of it until the end when they (Lady Bulldogs) needed it."
The Minotaurs trailed at halftime 28-21, and held the Bulldogs to nine points in the third quarter as Odyssey fought back to tie the game at 37-37 by the end of the third quarter.
The Bulldogs missed eight open shots in the third quarter and started the fourth quarter slow as well. It wasn't that they didn't have opportunities. They did. It's that Kingman's shots weren't falling until the end.
The Bulldogs' Sukuhana Quasula found herself in foul trouble most of the game and failed to score on the night. She was in and out of the game, and the team just felt out of sync.
"At that point, we changed the defense up," Kern said. "We made them aware and we started to trap, and then we pulled off of the trap and just started pressuring them."
This minor adjustment in the fourth quarter allowed the Lady Bulldogs to force tempo and change the complexion of the game. The Minotaurs forced shots after they broke the press and rushed shots when they were open.
The game went back in forth and was tied at 43-43 with 3:39 left when Kingman guard Courtney Mossor scored the Bulldogs' last five points, two by hitting a running shot in the lane and making three free-throws to close the game out.
"She's a pit bull in there," Kern said. "She never stops and she doesn't let things bother her. She is a very good teammate. She is always moving to positions where she is capable of scoring. She is very consistent with her defense."
Mossor scored 19 points in the victory and had several key steals late in the fourth quarter.
"I think once we talked on defense things slowed down," Mossor said. "We came back hoping to play like we did against River Valley, but they are a different team. They (Odyssey) are a different team than River Valley, and it took us a while to adjust to them, once we did we were OK."
Kingman (7-10, 3-2 2A West) plays teams in their region a second time for their final five games of the season. They travel to Northwest Christian, a team they defeated on Jan. 6, 54-47.
Kingman plays at Northwest Christian 5:30 p.m. on Tuesday.