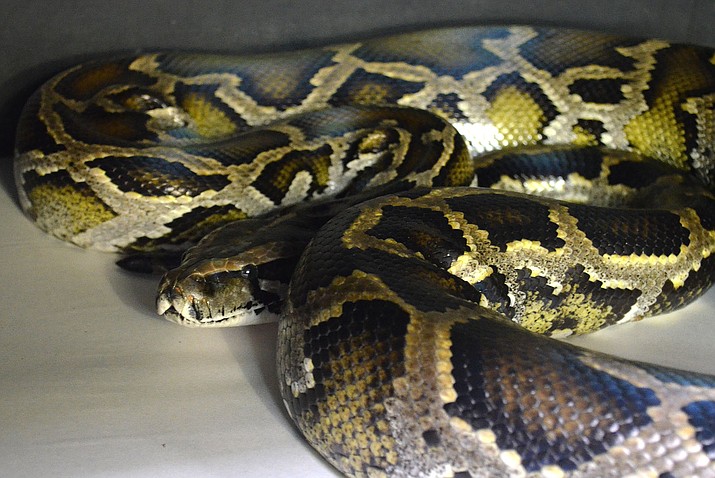 Photo by Aaron Ricca.

Originally Published: January 23, 2017 6:04 a.m.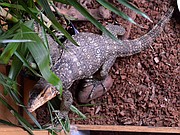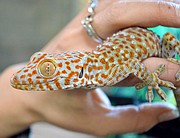 Their love of scales forged a love for each other.
Nicole Butler 28, and husband, Ryan Cofer, 27, are the proud parents of two kids, two dogs and a cat. They're also the owners of 53 snakes, lizards, birds and arachnids.
"We're a family passionate about reptiles, captive breeding and proper husbandry," she said.
Butler's interest in reptiles began in the seventh grade when she was an aid for a science teacher at Kingman Middle School. At one point, the teacher's growing number of animals became difficult to manage in a classroom, so she took some home and started her own collection.
She met Ryan in 2008, and he had a few snakes of his own. Their love took off, as did their mutual hobby. They started breeding and selling reptiles at their former (and hopefully again, future) business, Painted Desert Reptiles, in 2011. They had 10 animals between them when they met and had as many as 100 at one point.
"It just exploded," Ryan said.
The business stopped after a conflict with a potential customer who called the county health department and accused them of running a pet store. Butler said even though they don't breed or sell now, everything they do is legal. While the business is on hiatus, Butler will use her Mohave County Reptile Group Facebook page to buy, sell or trade feeders, tanks and other supplies as well as supply frozen rats and mice to the local reptile owning community.
"It's a place for people to discuss reptiles," she said.
Butler's fascination with the creatures trickles through the community. She takes the animals to local Scout troops and schools to educate kids on the creature's habits, habitats, food and their quirks. Those schools include those of her children, 6-year-old Nathan, who attends Kingman Academy Primary School and 5-year-old Aubrey at Little Explorers (La Senita Elementary School).
She said the teachers tend to freak out more than the kids, whose young brains can go from temporarily terrified to happily hyper-excited in a matter of seconds.
"I want the instruction to be very hands-on," Butler said. "I want the kids to be able to touch them."
The couple took the duty of judging the 4-H reptile exhibit at last year's county fair when the original judge couldn't make it. They'll be judges again this year.
The hobby isn't without risk. Ryan has been bitten a few times. Once by Hank, the 4-year-old, 30-pound Sumatran Water Monitor, which could grow up to eight feet.
"It's a baby," Butler said. "But he eats five mice at a time."
Problem Pet Owners
The couple has rescued a few creatures from local pet stores. Unprepared, would-be owners don't realize the effort it takes to care for reptiles. Butler said improper habitats are a major failure on the part of those owners.

"Something as simple as the heat not being hot enough can lead to the snakes getting respiratory infections," Nicole said.
She uses ultraviolet-B, or UVB, bulbs in the reptile cages. They can run up to nearly $30 and have to be changed every six months when the ultraviolet light runs out.
If the cages aren't kept up to UVB parameters, the bearded dragons can get metabolic bone disease, a problem she has encountered in some of her rescues.
Food and Bills
The couple's animal-focused grocery bill isn't cheap. The animals live on a diet of rodents, insects and vegetables. The breeding business made their life easier.
"It was almost self-sustaining," Ryan said.
Butler is a stay at home mother. Ryan's welding job sustains the family.
"When I place a rodent order, it's easily $500," Butler said.
The snakes and lizards eat frozen (and thawed) mice and rats. Butler said that legally, live mammals can't be used as food, and even if they were, the reptiles run the risk of injuries from rodent bites.
The couple makes a frozen-rodent order about every four months. The family also spends nearly $100 every three to four months for five-pound bags of various worms to feed the lizards. They can spend nearly $260 on cockroaches, but they breed their own – mainly the big Madagascar hissing roaches – as food for the reptiles. Other expenses include cages, lights, and humidifiers.
Both of their families are cool with the animals. Cofer said his grandmother used to own a few snakes, but that his mother is terrified of them. The couple's children accept the pets – reptiles, roaches and birds – as part of their family.
"When my mom comes over, she asks if everything is in its cage," Butler said.
During the tour of the family home, the cat, Jaeger, moseyed around the cages, oblivious to his scaly surroundings.
"He doesn't care," Nicole said, as the cat has been known to cozy up next to the family and any critter occasionally joining them in the living room.
Butler wants to let potential reptile owners know it isn't an easy task.
"People have to do research," she said. "We're just trying to educate them."