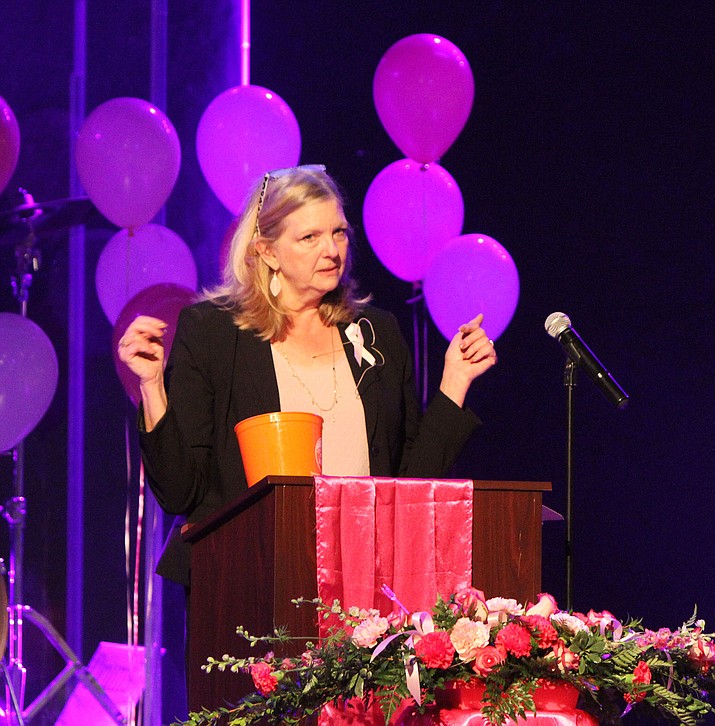 Photo by JC Amberlyn.
Originally Published: January 23, 2017 6 a.m.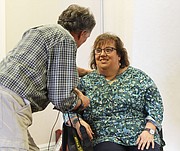 Kingman Regional Medical Center held its Seventh Annual Breast Cancer Survivor Luncheon at Journey Church in Kingman on Thursday. The annual event is aimed at cancer survivors who have been through the cancer program at KRMC as a way of thanking them and "telling them we're glad they're here." Janet Watson, president of the Kingman Cancer Care Unit, spoke as a breast cancer survivor. Several KRMC officials spoke and Les Kraus provided entertainment. Women are urged to "catch it early" by having mammograms. Women over the age of 40 should consider having a mammogram every year. Many insurance providers cover annual mammograms, but there are grants to help those who still struggle to afford it. Call the KRMC Imaging Center at 928-692-2727 for more information or to schedule a mammogram.
Above, Teri Williams, director of Marketing and Communication at KRMC, addresses the audience. At right, event photographer Rik Simon prepares to take cancer survivor Linda Beaumont's photograph.