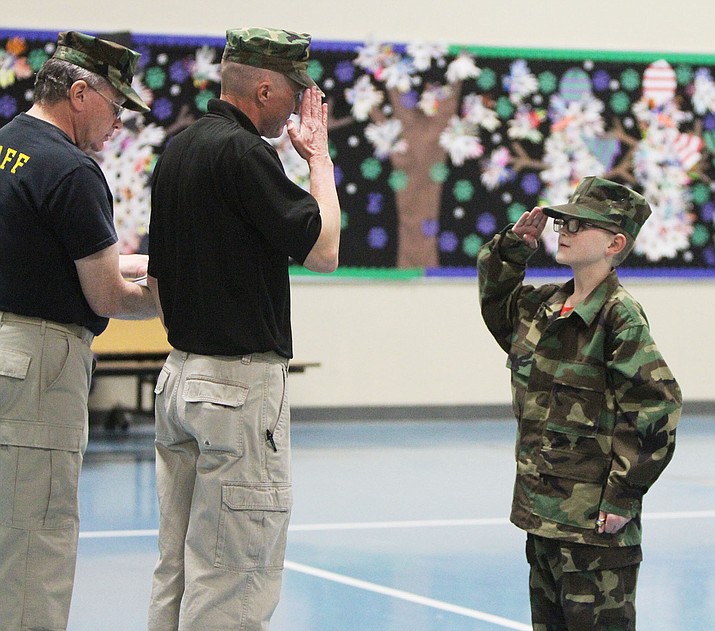 Photo by JC Amberlyn.

Originally Published: January 24, 2017 6:03 a.m.
KINGMAN – The Kingman Young Marines have joined the ranks of the Boy Scouts, Girl Scouts and Boys and Girls Club in the realm of organizations pointing kids in a positive direction toward adulthood.
The group held its second graduation ceremony Thursday in front of friends and family at the Kingman Academy Intermediate School gym. The 2017 class had 11 boys and girls between the ages of eight and 16. The Young Marines is a nationwide youth organization based on the United States Marine Corps culture and relies on the Corps' traditions and courtesies as a framework for the project, but youth training is far from what an adult Marine recruit would endure.
"It's sort of like boot camp, but not in the classical form where they're kept away from their families," said Kingman Young Marines Unit Commander retired Lt. Col. Robert Skankey. "It's an indoctrination into values and purpose of the program. They learn the core values of leadership, teamwork and discipline."
The Kingman program has been around since the fall of 2015, the result of efforts between Skankey, retired Master Gunnery Sgt. Jim Glover of Lake Havasu City, and Terry Flanagan, commandant of local Marine Corps League Detachment #887. There is a Lake Havasu City-based Young Marines club, and the men worked to expand throughout the county.
"It's an interesting program," Flanagan said. "The kids like it and the parents like it."
Young Marines is similar to Scout troops, but with Marine Corps customs, values and courtesies. The recruits meet once a week for 13 weeks at the Kingman Academy Intermediate School. Their training includes team-building exercises, drill and ceremony, camping and outdoor skills, first aid, land navigation, and of course physical fitness – to which they are required to meet certain fitness standards. They also learn responsible gun ownership, safety and marksmanship skills.
"We try to challenge them and get them into new activities," Skankey said.
Recruits earn the rank of private after graduation and will use a military rank and responsibility structure with the possibility for advancement. They can also earn ribbons and awards for various skills.

Skankey said the kids walk away with the life building skills of staying in shape, eating healthy, and having a more disciplined mentality toward tackling schoolwork and household chores.
"It's teaching these kids they have more control over their lives than they think," he added.
"When the parents come up and thank the program and how it's changed their kid, that's what I like to hear."
According to the official Young Marines website www.youngmarines.com, units are community-based programs led by dedicated adult volunteers – many of whom are retired, active duty, or reserve Marines who believe the values they learned as Marines had a positive effect on them. It is through these caring adults that Young Marines learn the inner values of honor, courage, and commitment while instilling the core values of leadership, discipline and teamwork.
"I thought it would be fun," said recent 10-year-old Young Marine graduate Christopher Buck. He's a fifth grader at the Kingman Blended Learning Center's Arizona Virtual Academy and thought joining the group would give him an edge in life. "You have to make choices in life," he said. "This will help me make those choices."
Along with community service, veteran's appreciation and summer programs, a huge mission of Young Marines is teaching kids to avoid substance abuse by helping them recognize their potential and developing their talents.
"It's a big anti-drug push," Skankey said. "It's about taking charge of your own destiny."
Some of the recent public events attended by the Young Marines include marching in the Armed Forces Day parade in Flagstaff, May 16 and presenting the colors at the 2016 Mohave County Fair and Lingenfelter Center Veteran's Day Parade.
Skankey is working to get them involved in other ceremonies, including the Yuma Air Show in March.
The group is currently selling $20 contest tickets as a fundraiser for a B-17 flight at the Kingman Airport in February (a flight will cost between $435 and $475).
For information on the Young Marines, go to the Kingman Young Marines Facebook page or visit www.youngmarines.com.