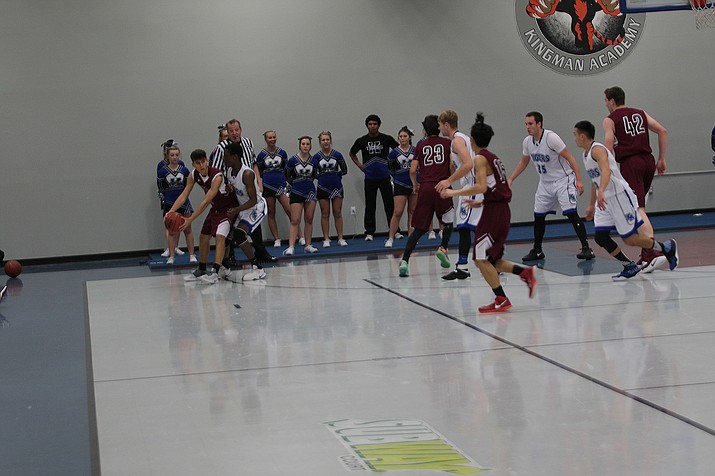 Photo by JT Keith.
Originally Published: January 25, 2017 6:01 a.m.
KINGMAN - One of the key games in area hoops will be the awaited rematch between Kingman Academy and Trivium Prep. The Tigers come into the game with a one-game lead in 2A West Region. Kingman defeated the Crimson Knights at home 55-54, on Jan. 6.
This was the first game senior David Larrabee played in since becoming eligible. He led the Tigers in scoring with a team high 17 points. He made three-3-pointers and was able to get to the free-throw line to score the winning point with 14 seconds left.
Sophomore Chinyere Tyler scored 16 points, and blocked four shots, senior Cade Martin scored 15 points and was a force on the defensive end of the floor blocking three shots. Trivium Prep had a chance to win the game. They had the ball in the Tigers frontcourt with 11 seconds left and called a timeout. Out of the timeout a Crimson Knight player taking the ball out of bounds made an errant pass that was intercepted by Larrabee for the win.
Kingman Academy is on a six-game winning streak and undefeated in region play at 6-0. If they win out they will receive an automatic bid to the state tournament.
Of the Tigers' big three, senior Martin is averaging 20.5 points and in his five games as a starter Larrabee is averaging 19 points and Tyler is averaging 14.9 points.
KINGMAN
Kingman Bulldogs are coming off a win at home with a 62-58 victory over Odyssey. Bulldogs' coach Nick Juby has hit upon a combination of explosive scoring and tough defense. This team can win out. It begins when they travel to Northwest Christian, Tuesday night.
The Bulldogs (7-15, 2-3 3A West Region) will try to avenge a 63-46 loss at home on Jan.6. Kingman must win out and have some help if they have any hope of making the playoffs.
Big man Anthony Pinto is averaging 17.8 points a game. This is a different team with sophomore Jazyon Hundley in the starting lineup. There are four players who can score the ball and get 20 points on any given night depending on who is hot.
Elijah Howery is a powerful and quick guard who can get to the rim at any time and get his shot. As a leader, and only a junior, he must learn when to take over a game and when to get others involved. Howery is probably the best point guard in the region and has big time potential to lead his team to victory over the next five games.
It seems like the forgotten man in the lineup has been Jordan Dupee, he is more than capable of taking his man off the dribble and creating a shot for himself. He has the sweetest jumper and can bomb from 3-point land. If he gets hot he can carry the team.
Tobias Bagby is uber athletic and competitive, he helps his team with his defense and shot blocking ability. He is also able to get his shot off and fill the lanes on fast breaks. In crunch time when the game is on the line depending on who has the hot hand, the offense has to run through Pinto, Howery and Dupee. Their confidence should be at an all-time high with a two game-winning streak.
LEE WILLIAMS
Lee Williams (9-10, 1-6 4A Grand Canyon Region) plays against Cactus Shadows in a nonconference game, and then begins region play for their final five games.
Coach Cain Atkinson must be wondering what he can do to get his team to turn around the season. Lee Williams has had a thing with five this season. They have won five games in a row and then have lost five out of their last six games.
The Vols need to win their final five region games to have any shot at making the state tournament playoffs.
In their last game against league leader Flagstaff, the Vols were within a possession of winning on the Eagles' home court, before losing 46-42.