Originally Published: January 26, 2017 6:04 a.m.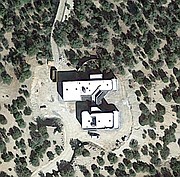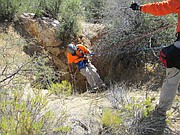 The Kingman Police Department was on the receiving end of significant criticism for its perceived response to the disappearance of Sidney Cranston Jr. on June 16, 2015.
The complaints posted online – including in this newspaper's website comment section – suggested the KPD was not putting in the time and energy the case deserved. That some of it came from Cranston's relatives can be discounted. They were living a daily nightmare that would last 19 months. Frayed nerves and the unbearable weight of worry took a toll.
Other people connected or unconnected to Cranston in any way also ridiculed the department and its detectives. These were not random criticisms. They were specific and directed the police to one individual: Alfredo "Al" Blanco.
Chief Bob DeVries was accused of protecting Blanco. Detectives, they said, were oblivious.
But police can't arrest someone without probable cause. Sometimes it takes time to build a case, especially when people go to great lengths to cover their tracks.
It turns out the KPD doggedly pursued the solution to one of Kingman's many missing persons cases. The key that would unlock the riddle lay with Blanco – and had since the early days of the investigation.
A narrative in the application for a search warrant completed by KPD Detective Dennis Gilbert showed the investigation began roughly 25 hours after Cranston went missing.
A missing person report was taken when Bob Carlson reported his friend never came home the night before and that Sid was last seen with Blanco.
Where's Sid?
Cranston was a houseguest of Carlson and his wife. Cranston was in town to check up on the 43 properties he owned. The night he went missing he was supposed to attend a Kingman City Council meeting. There were sewer issues with a home he had just purchased and he sought a variance. He never showed up.
Search and Rescue looked for Cranston on June 18 when they searched each of Cranston's properties.
Detectives thought they might catch a break the following day when Cranston's credit card was charged. They learned the $33 was charged as an automatic annual renewal at a CrossFit gym at which he was a member.
That same day, a Mohave County Sheriff's detective wrote court orders for three telephone numbers: two for Cranston's cell phones and one for Blanco. The detective also requested and eventually obtained video from In-N-Out Burger, where Cranston and Blanco bought lunch just before Cranston disappeared. The video was "very grainy," according to Gilbert, and unusable.
Also on June 19, Gilbert was contacted by someone who told him Cranston had a conflict with a family he sold a property to on Oatman Road. That was another dead end. Gilbert interviewed the parties and learned the issue was resolved amicably with Mohave County.
Conflicting Statements
The search warrant led to the retrieval of Cranston's remains and the arrest of Blanco for first-degree murder.
And while Blanco remained free for 19 months, it was a mistake he made early on that raised the suspicions of detectives.
On June 18, Search and Rescue Unit Commander Louis Vega contacted Blanco, who told him he had left Cranston at In-N-Out the day before at about 11:30 a.m.
But in the initial report, Blanco told a police officer that he and Cranston picked up lunch for Blanco's children, took it to them and then went to a Club Avenue home they were working on.
At that point, Blanco was called to the KPD station and interviewed.
He told him he maintained Cranston's properties and collected rent from two families.
He was paid 10 percent of $1,640 a month. Blanco told detectives Cranston was showing a property in a remote location 20 miles outside of town off of Stockton Hill Road. He said he offered Cranston a pistol to take with him, but he didn't.
Blanco said he called Carlson the next morning to see if he had seen Cranston. After determining Cranston never came home, Carlson went to the police.
The Rings
On June 25, detectives learned Blanco sold two rings to a local jewelry store. The owner said Blanco was his former father in law and that he sold him two rings for $210 on June 17. Blanco said he found them in an old couch from a home he was cleaning up, according to the owner.
The man also told detectives Blanco has "a history of stealing things." He said Blanco had been trespassed for theft at Home Depot and True Value, and that Blanco once was caught stealing the man's father's gun.
Blanco came to Kingman from Costa Rica, said the store owner. He was allegedly a black marketer and wanted by the authorities. A woman told detectives Blanco spent time in jail in Costa Rica.
The rings were valued at between $1,300 and $1,500. At least one of them was Sid's, according to an ex-wife who identified the wedding ring she gave Cranston. Nobody could identify the other ring.
Over the next several months detectives worked the Cranston case, along with roughly half a dozen other missing person cases.
The Big Break
In August of 2015, they interviewed Bill Sanders. Sanders was the key, though they didn't know that at the time.
Sanders said he and Blanco had known each other since 1999. Sanders said he "can't really remember" June 16. He was given phone records to review and recalled he could not contact Blanco by phone all day, and that he saw Blanco outside the jewelry store the day the rings were sold.
Sanders also said he had never met Sid Cranston.
A Tale of Two Polygraphs
Don Bishop, on whose 240-acre ranch east of Kingman Cranston's body was found, contacted police in early September 2015. He told detectives he didn't think Blanco was involved in Cranston's disappearance. He also said he was paying for Blanco to take a polygraph exam in Phoenix. Detectives submitted the following questions:
• Did you kill Sidney Cranston Junior?
• Do you know where the body of Sidney Cranston Junior is located?
• Were you involved in the disappearance of Sidney Cranston Junior?
• Do you know who hurt or killed Sidney Cranston Junior?
While the results of the privately administered exam of 2015 were never provided to detectives, Sanders reportedly failed one given by FBI Special Agent Brian Fuller on Jan. 6.
Once advised the results showed he was not being truthful, Sanders dramatically changed his story.
He said Blanco shot Cranston with a shotgun inside a home on Wilson Ranch Road. The body could be found buried behind the light tan shed near the home.
That same day, Sanders took detectives to the gravesite and they requested the search warrant. The search led to Cranston's remains, which were buried deep underground. A backhoe was used to dig the grave.
Blanco has a court hearing scheduled today. He is being held without bail.