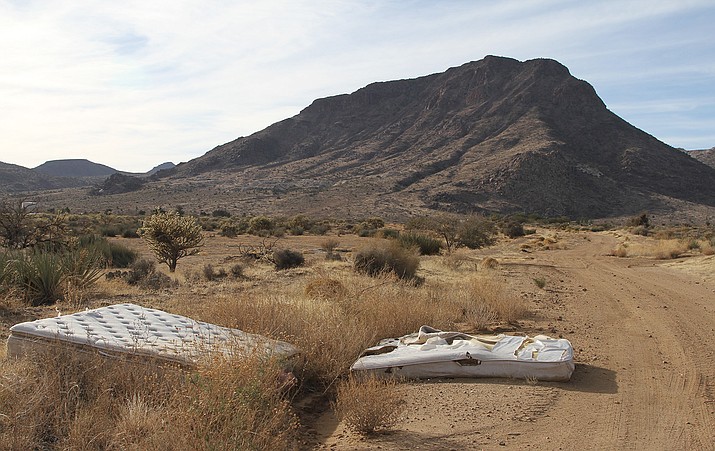 Photo by JC Amberlyn.
Originally Published: January 27, 2017 6 a.m.
KINGMAN – Mohave County Supervisor Buster Johnson wants to step up enforcement of illegal dumping of trash in the desert by doling out more reward money to witnesses who squeal on the culprits.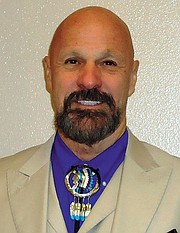 Mohave County started its Environmental Rural Area Cleanup Enforcement (ERACE) program in 2004, but it hasn't come close to achieving desired results, the supervisor noted.
Instead of using its law enforcement powers, ERACE became a "huge outdoor janitorial service," Johnson said, cleaning up tons of garbage.
In March 2015, Johnson proposed giving a $500 reward to witnesses who report illegal dumping in the county that resulted in an arrest and conviction.
Johnson wants to give the $500 reward money to concerned citizens, not hand out warnings to uncaring offenders. That was supposed to be the center of an effective program to end mountains of illegal dumping.
The reward initiative was "watered down" by a five-day warning for offenders to clean up their trash to avoid prosecution, he said.
That makes it easy for the perpetrators to escape any prosecution by correcting their behavior that one time, but repeating their actions in the future. It also lowered the incentive for witnesses to go after the reward.
"ERACE thinks its program is effective because it has removed tons and tons of trash," Johnson said. "They'd be far more successful by removing far less trash because it's no longer there in the first place due to the deterrent of heavy fines the offenders cannot afford and jail time they certainly don't want."
Johnson also wants to release names of offenders to the public because "embarrassment can be a strong deterrent."
ERACE operates on a $350,000 annual budget, and nearly all of that money is going for clean-up costs, not tracking down and prosecuting the illegal dumpers.
Few individuals have actually been charged, and only one has been convicted under the county's anti-litter ordinance.
"This was the worst-case scenario of harsh punishment meted out by Mohave County to a prolific dumper," Johnson said.
The offender received three days in jail, one year of probation and was fined $300, plus $140 in fees.
The county has spent millions cleaning up illegally dumped trash, when "100 rewards totaling $50,000 might have well solved the entire problem," Johnson said.
He believes that "wildcat dumping" in the desert will continue unabated unless fines are enforced and the county's ERACE program manages to take decisive action against offenders.
"Rewards plus no warnings to violators, stringent enforcement, heavy fines and incarceration will do wonders to get rid of all of that tonnage of waste and turn it into mere pounds," Johnson said.