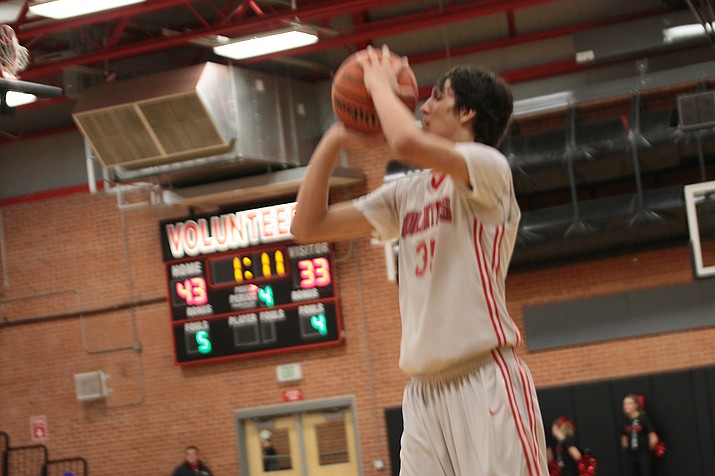 Photo by JT Keith.
Originally Published: January 29, 2017 6 a.m.
KINGMAN – Lee Williams coach Cain Atkinson didn't start "Sophomore Sniper" A.J. Herrera because he wants him to elevate other parts of his game and become a total player. Coming off the bench is just fine with Herrera. When he comes into the game, it is usually for one purpose – to get it going for his team offensively.
On Friday night Herrera had no problem doing that as he showed unlimited range on his 3-point shot. Herrera's range is anytime he has the ball just over the half-court line. Herrera hit his first three shots deep beyond the arc and finished with 19 points to help give his team a 50-38 win over region rival Prescott.
"I was feeling my shot," Herrera said. "My team pumped me up, the crowd was exciting and I was on fire."
"A.J. is going to be a heck of a player," Atkinson said. "I have extremely high expectations for him. One thing for A.J. to understand is it's not about his shot going in. He has to make an impact on the game other than shooting his outside shot and that is why he has not started the last two games. I want him to make everything else a priority even if his shot isn't falling."
The Vols came out to a standing-room-only crowd and used their energy to hold the Badgers down offensively to lead at halftime, 34-13. Lee Williams either overplayed the passing lanes or gambled for steals forcing Prescott to start their offense at the elbow. When Prescott did get a shot off usually a Vols' player's hand was in their face.
"My team is finally playing the way I've wanted them to play all year," Atkinson said.
In the first half everything went well for Lee Williams, but in the second half everything changed and the basket seemed to have a lid nailed down on it. The Vols couldn't make a basket even if they had a ladder and was standing over it and all they had to do was drop it in. They managed to score six points in the third quarter, as Prescott closed the lead to 40-28.
The fourth quarter was no better as Lee Williams scored only three points until the last minute before the Badgers had to foul. Once on the line, the Vols made seven of eight free throws to seal the game.
"We were still running the same stuff," Atkinson said. "They (Prescott) did a better job on us of trying to overplay and pressure a little bit harder than they did in the first half. We just couldn't put the ball in the hoop and it affected us and our energy level on the defensive end. Then we couldn't get into the press like we did in the first half to get us going. I'm pleased with how we played."
Diego Narvarte added 10 points, Parker Taylor, Marco Narvarte each had six, Larry Campbell had five and Kael Juelfs and Austin Parente each added two points.
With three games remaining before the 4A Grand Canyon Region tournament, Atkinson believes his team is beginning to play the right way consistently. And he thinks seeding in the tournament won't matter as long as they are playing the way they are capable of playing. Atkinson believes his team can beat anyone.
Lee Williams next travels to Mohave and will be on the court at 7 p.m. Tuesday.