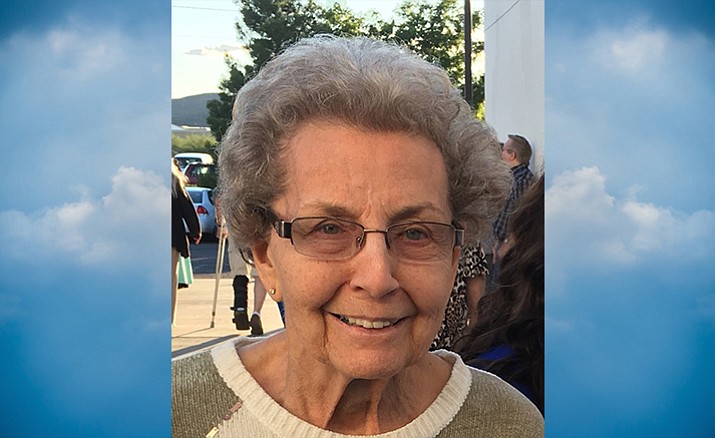 Originally Published: January 29, 2017 6 a.m.
Marilyn Dee Bellomy went home to be with her loved ones in Heaven on January 23, 2017.
Marilyn was born in Pennsylvania on October 16, 1934 to Florence and Samuel Wright.
Marilyn met her first husband Gerald (Jerry) Smail and married in 1956. They moved to California and had two children, Gerald Clyde Smail and Holly Lynn Smail. Marilyn worked in the medical field for a cancer doctor in Stockton, California. Later she became a bookkeeper for the Sotos. In 1991 Marilyn lost her husband Gerald (Jerry) Smail.
Marilyn found love again and married her current husband Orville Bellomy in 1994. Marilyn and Orville moved to Lake Havasu City, Arizona in 2002. In 2013 Marilyn and Orville moved to Kingman, Arizona.
Marilyn enjoyed bowling in leagues, bunco and spending time with her children and grandchildren.

Marilyn was a sweet and kind person to everyone she met. Marilyn was well known for her delicious chocolate chip cookies and her holiday baking. Marilyn always made sure she had a batch of delicious cookies made when any of her grandchildren were coming.
Marilyn is preceded in death by her father, Samuel Anderson Wright; mother, Florence Ada Wright; her husband, Gerald (Jerry) William Smail, and her brother, Samuel Clyde Wright.
Marilyn is survived by her husband, Orville Bellomy, of Kingman, Arizona; son, Gerald Clyde Smail, of Kingman, Arizona; his wife, Brenda; and grandchildren Mathew, Shannyn, Makayla, Hayley and Dillon; her daughter, Holly Lynn Greenwood of Hollister, California; her husband, Marty, and grandchildren Joshua and Christopher.
Marilyn will be missed greatly by many.
Arrangements were placed under the care of Lietz-Fraze Funeral Home and Crematory.
Thoughts and condolences may be submitted to the family at www.lietz-frazefuneralhome.com.
More like this story