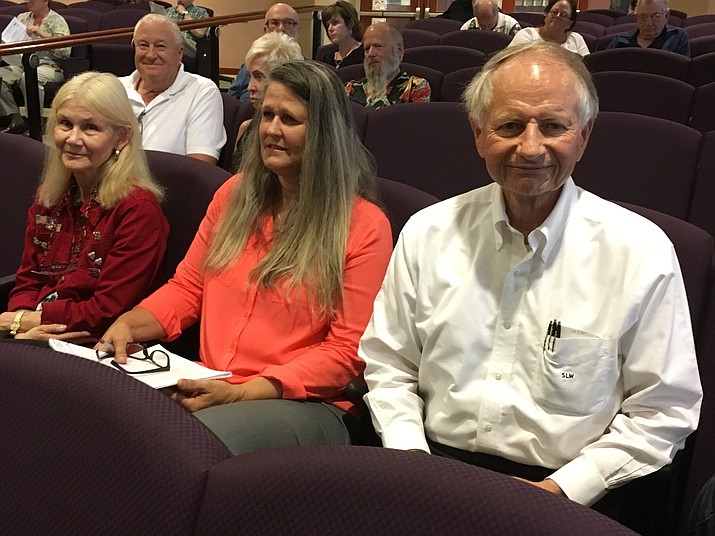 Photo by Hubble Ray Smith.
Originally Published: July 5, 2017 5:58 a.m.
KINGMAN – Scot Industries is leaving its 50,000-square-foot building at Kingman Airport Industrial Park to build a 60,000- to 80,000-square-foot plant in Golden Valley, boosting the local economy with about 15 jobs and substantial tax revenue, the company's president said Monday.
Steve Wilmeth, president of Lone Star, Texas-based Scot Industries, came to Kingman to introduce himself and his wife to the Mohave County Board of Supervisors prior to a vote on rezoning land south of Shinarump Drive on Oatman Road from low-density residential to heavy industrial and heavy manufacturing.
Supervisors voted 4-0 with Supervisor Gary Watson absent to approve three separate zoning requests, all unanimously recommended by the Planning and Zoning Commission.
Scot Industries is in escrow to purchase 240 acres in Golden Valley, with about 10 acres approved for rezoning to allow for a manufacturing, honing, warehouse and distribution plant.
Much of the property, owned by local businessman Scott Dunton, was rescinded from single-family residential prohibiting manufactured homes to the previous zone of agricultural-residential with a 10-acre minimum lot size.
Wilmeth said Scot's facility at Kingman Airport is rented, and there's no room to expand. The Golden Valley site is closer to the Interstate 40 and to California, which is the primary market for Scot's specialty application tubing.
Scot's investment in the plant is estimated at $10 million to $12 million, and Wilmeth said he expects to have the new facility "up and running" in about a year.
"Historically, what I've done is bought a large site and put the facility in the middle," he said in an interview outside the board meeting. "It's environmentally sound and there's room to expand in the future."
Bennett Bratley, economic development director for Mohave County, said he worked with Scot Industries in 2010 when the company was looking at sites in Arizona, Nevada and California. He was able to get Scot into the empty Jeld-Wen building at the airport in 2013.
"They could relocated anywhere after their lease is up (at the airport)," Bratley said. "Fortunately, we found a property hat suited their needs."
There was some opposition to rezoning the land by local residents, including Robert Romoff, who said Dunton had already broken promises about paving Rancho Road in the Walnut Creek Estates subdivision.
"It's obvious we're being deceived," he told the board during public comment. "Homes are out, heavy industrial is in. It's always about the money."
A couple of other owners who bought parcels in the subdivision but had yet to build homes also spoke against the rezoning, claiming property values would decline because of noise, pollution and heavy traffic.
Supervisor Jean Bishop said she answered every call and email about the proposed plant, and visited the site during both the day and night. She also met with Wilmeth.
"If you could dream up the perfect company to come to remote Mohave County, this is it," Bishop said. "They don't pollute."