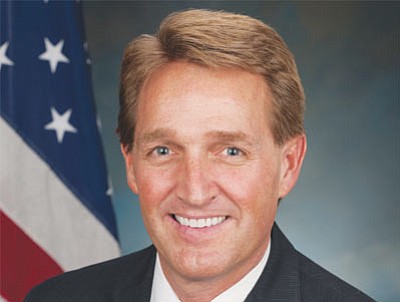 Originally Published: July 7, 2017 5:52 a.m.
PHOENIX (AP) – Protests against a health care bill in the U.S. Senate heated up Thursday when seven opponents of the plan were arrested at Arizona Sen. Jeff Flake's Phoenix and Tucson offices.
The protesters were taken into custody as they were trying to sway the Republican's vote on the stalled bill repealing much of former President Barack Obama's health overhaul.
Pima County Sheriff's Department spokesman Deputy Cody Gress said two men were arrested for trespassing at Flake's Tucson office.
Deputies were called after one man reportedly made a comment about last month's shooting that critically wounded Louisiana Republican Rep. Steve Scalise that a staffer perceived as a threat. That man was also booked on a threat charge. A second man was booked after trying to force his way inside the office.
Flake spokesman Jason Samuels said the man asked the staffer if he knew how liberals "are going to solve the Republican problem." When the staffer said no, the man reportedly said "They are going to get better aim. That last guy tried, but he needed better aim. We will get better aim."
At the Phoenix office, police spokesman Sgt. Jonathan Howard said protesters began assembling early Thursday and were monitored by police. The group eventually gathered at the entrance to the complex and the property manager asked them to leave.
Most did, but Howard said four men and a woman refused to comply and were arrested for trespassing.
The rest of the group continued to protest on the public sidewalk.
Samuels noted that on Wednesday a group of about 20 disabled protesters spent the day in the lobby of Flake's Phoenix office, "so protests are something we've shown we are prepared to accommodate."
Flake is in the state during this week's congressional recess. He was spending time with his family following last week's death of his father, Dean Flake, and appeared at a religious freedom event in Utah Thursday.
The first-term Republican up for re-election next year is being fiercely pressured by opponents of the health bill, with groups like AARP running ads urging him not to back it. Gov. Doug Ducey is also urging him and Sen. John McCain to soften the Medicaid changes made by the bill.
Flake is a key vote for the health care repeal bill but hasn't indicated if he will support it.
On Thursday, the senator's staff passed out a note from him to those protesting.
"While I have not yet seen a revised version of the bill I can say my decision will be based on how it balances two principles," the note said. "The first is that the legislation needs to ensure that those who currently have coverage do not have the rug pulled out from under them. The second is that the Senate must agree on a solution that is fiscally sustainable."
More like this story