Originally Published: July 7, 2017 5:59 a.m.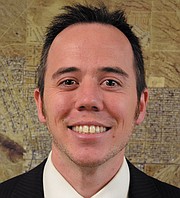 KINGMAN – Although the Kingman City Council had scheduled the council meeting agenda to include a report from a representative of the Kingman Airport Authority, it looks like they will have to wait till the next council meeting to hear a report.
Following the second workshop between KAA board members and city council members, the council had requested to hear quarterly reports from a representative of the KAA in order to better understand how the airport and Industrial Park are being maintained.
The report was scheduled on the agenda for Wednesday's meeting, however, at the meeting, Mayor Monica Gates stated that the item had been "erroneously" put on the agenda.
"The city was notified on that day (the day the item was put on the agenda), that the representative from the airport authority could not be in attendance at this meeting." Gates said. "She will be here at the July 18 meeting, so we'll expect a report at that time."
Council Liaisons
At the June 15 workshop between the KAA and city council, members of the KAA made the offer to the council to allow a liaison from the council to attend any of their three subcommittee meetings. The offer would allow council members to view what happens in the committee meetings, and be behind the closed doors of the KAA.
Mayor Gates asked the council at Wednesday's meeting if any would be interested in being a liaison for one of the committees, and three council members stepped up and volunteered their time.
Councilman David Wayt will be the liaison for the Airfield Committee, Councilwoman Jamie Scott-Stehly will be the liaison to the Finance Committee and Councilwoman Vickie Kress will be the liaison for the Industrial Park Committee.
Workshop Changes
At Wednesday's city council meeting, Mayor Gates made an announcement that many Kingman residents have been looking forward to.
The scheduled workshops between the KAA and the city council have had a change in venue, as well as start time.
Future workshops will be held at Beale Celebrations, 201 N. 4th St., and will begin at 5 p.m.
This will be a big help to those residents looking to attend the workshops, but could not previously due to work schedules.
The next workshop will be held July 27.
More like this story