Photo by Aaron Ricca.

Originally Published: July 7, 2017 5:54 a.m.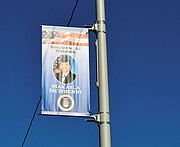 KINGMAN – Patriots and spectators flooded Metcalfe Park Tuesday morning to kick off Independence Day celebrations by officially recognizing the addition of military banners honoring local service members.
Thirteen banners for those serving in the U.S. Army, Navy, Air Force, Marine Corps and Coast Guard were hung on city light poles last week, but Mayor Monica Gates, Rep. Regina Cobb, R-Kingman, members of the Northern Arizona Patriot Guard Riders, Jerry Ambrose Veterans Council President Pat Farrell and some of the service members themselves converged on the park to officially welcome the additions to the downtown landscape.
The Tri-State Veterans Honor Trust has worked together over the last few months, petitioning the city to allow the banners to be hung. Local residents and businesses have been working diligently with the city to get the city code modified to allow the banners to be placed. With the recent success, they will begin hanging them from the Interstate 40 interchange throughout the downtown portions of Beale Street and Route 66 in honor of local active duty military men and women.
Two women who spearheaded the project, Veterans Honor Trust President Mary Lou Galvan and Vice President Rebekah Bacoka, both have children serving: Nicholas Bacoka in the Navy and Fernando Galvan III in the Marine Corps. They coordinated with Tri-State Military Moms, who have already erected banners in Bullhead City, Ft. Mohave and Mohave Valley.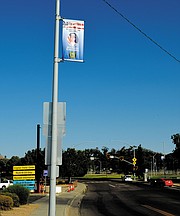 Mayor Gates was more than happy to see the banners hanging downtown, thanks to the perseverance of Bacoka and Galvan.

"They're an amazing group of ladies. They've been working with the city for three years," she said. "I'm so excited to see this actually occur. It's a daily reminder to help us appreciate those who sacrifice their time to keep us safe."
Airman Makayla Newberry, a 2015 graduate of Kingman High School, is one of those service members.
"It's nice to know the town has our backs," she said.
Newberry is currently stationed at Nellis Air Force Base in Las Vegas training as a surgical technician. She'll be stationed in the United Kingdom after graduating tech school. She joined the service to show her elders that her generation is stepping up to the plate.

"A lot of older people say millennials are lazy," Newberry said. "I wanted to prove them wrong."
There are a few requirements to be recognized with a banner.

The honoree must be currently serving in the U.S. Armed Forces and be a resident or immediate family member of a permanent resident of Kingman.
Kingman honorees include:
Nicholas Bacoka, Navy; Jarrod Chastain, Kameron Comins, Dylan Flores, Makayla Newberry, Paige Prentice and Justin Wilkerson, all Air Force; Marissa Esquibel, Diana Lira and Audey Yarbrough, all Army; Ricky Ogborn II, Coastguard; Brian Driggs and Fernando Galvan III, Marine Corps.

For more information on how to get a service member you know onto the Kingman skyline, visit www.TriStateMilitaryMoms.com, or contact Galvan at 928-692-5381.