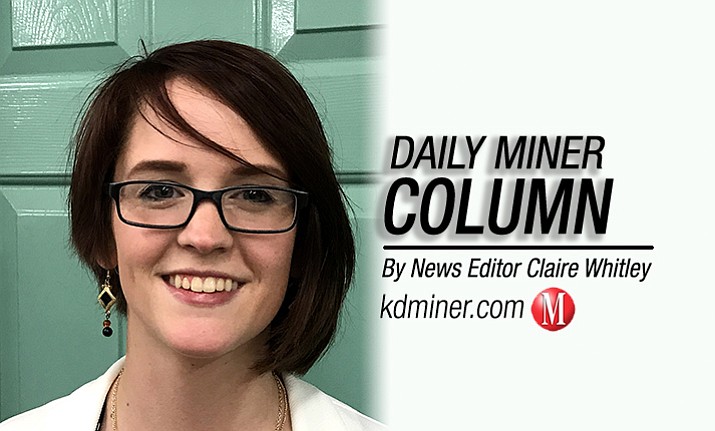 Originally Published: July 9, 2017 5:58 a.m.
Visual art comes in all shapes and sizes. From turquoise figurines to quilted flowers, visual art can express ideas and connect a variety of people to a common purpose.
Which is why it is good to see a visual art community is trying to grow in Kingman. With the second show opening at the Kingman Center for the Arts Gallery, and the amount of community submissions, it is a good launching point. People are using fabric for canvas or creating beautiful multimedia pieces using Photoshop. While the Southwestern edge should never be completely lost, it is nice to see that there is something more encompassing happening within the little art community.
Art has been used for far more than just recreation of an image. It isn't always about being a pretty desert sunset. Sometimes it is about famine, war, death and loss. Using colors or patterns or even a few simple lines, art can shift people's preconceptions. Add some lines to the sunset, and it is a forest fire burning across the Sonora desert. Humans connect to visuals. They can pick up on fear and pain and sadness with only three lines.
That versatility and ability to elicit strong reactions is what makes art a powerful thing. Especially in the form of protests.
Yes, art can be used as a form of protest. Modern street artist Sabo and the French caricaturist Honore Daumier have used visuals to express opinions and ideas from all sides of the spectrum.
Sabo, a conservative artist based in Los Angeles, was made internet famous in 2015 with his image of Ted Cruz being the "ultimate bad boy." He has also made such images as "Hillary Rotten Clinton" and depicted Wendy Davis as "Abortion Barbie," after the Texan politician held a filibuster in 2013 to block the senate bill restricting abortions.
Less recently, Daumier used lithography to create outlandish caricatures of the politicians of his day – the mid- to late-1800s.
In an exhibit at the Metropolitan Museum of Art in March, Daumier's work was showcased alongside pointillist Seurat whose focus was to show the darker side of the circus culture. Daumier however took the circus as an opportunity to criticize King Louis-Phillippe in his 1834 lithograph "Bring Down the Curtain; the Farce is Over." The king is portrayed as a grotesque clown who is shutting the curtain on the French Parliament, a snarky attack on modern political cynicism after the French Revolution.
Art is a medium for people to express their First Amendment rights. It is a form of speech that doesn't need words, written or spoken, to connect thousands of viewers. From the people in L.A. who saw Sabo's "Obama Drones" criticizing Jon Stewart and Alec Baldwin to the illiterate masses in France during the 1830s, it will continue to connect people.
Visual art is one of the strongest mediums of expression and criticism, and it should always be encouraged to grow.