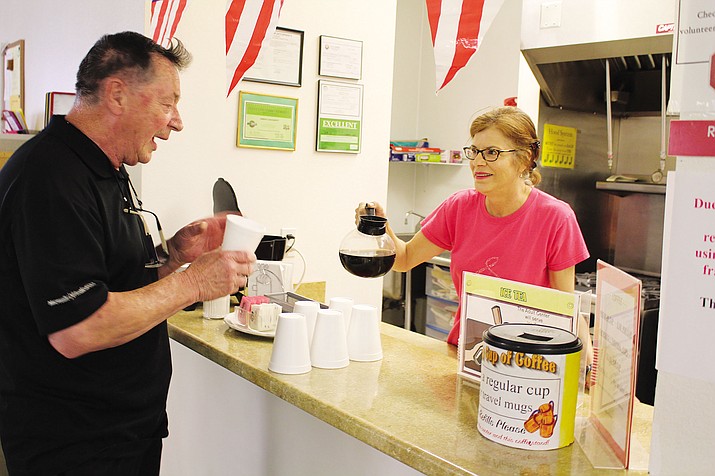 Photo by Hubble Ray Smith.
Originally Published: July 9, 2017 6 a.m.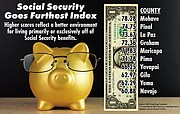 Contemplating where to spend your retirement years?
With its mild climate, low tax structure and relatively cheap housing, Arizona continually ranks among the most attractive states for retirees, and Mohave County is No. 1 in the state for stretching those Social Security dollars the furthest, according to SmartAsset.
The financial consulting company recently conducted a survey of U.S. counties where Social Security benefits will cover the most of a person's cost of living after taxes, and Mohave County scored quite favorably.
The cost of living in Mohave County was calculated at $18,182, and the annual Social Security income was $19,302, with no taxes, giving the county a Social Security index rating of 78.28.
Pinal County was No. 2 with an index rating of 74.75, and La Paz was No. 3 at 73.67.
Carl Sajec, 78, didn't need a study to convince him to move here four years ago from Seattle. And yes, his Social Security check goes further because of the lower cost of living, No. 1 being the cost of housing.
"Transportation, the ease of getting from one place to another without using a tank of gas," Sajec said Thursday at Kathryn Heidenreich Adult Center. "In Seattle, it's an hour to get to your doctor's appointment at Pill Hill. That's where all the medical offices and the hospital are."
The cost of gasoline is 35 cents a gallon cheaper here compared with Seattle, he mentioned.
Another reason the county is comfortable for Social Security retirees is that property taxes are "very reasonable here," Sajec added.
And he can go to a movie on senior night and get admission, a bag of popcorn and soda for $7. It's twice that in Seattle, he said.
Retirement planning
"Planning where you'll spend your retirement can be difficult, especially for folks who will be relying heavily on Social Security as a main source of income," said Steve Sabato, spokesman for SmartAsset. "There are, however, places where Social Security goes further than others."
While it's certainly advisable to have some retirement savings of your own to help pay for those "golden years," the SmartAsset study can help retirees who'll be living mostly off Social Security, he said.
In its third annual survey, SmartAsset analyzed Social Security income, cost of living data and taxes across all counties to determine where people could get the most mileage from their monthly benefits. Arizona has no taxes on Social Security, which gives it a huge index advantage.
Some Arizona counties performed well in SmartAsset's study mainly because the state does not tax Social Security income, noted Kara Gibson, public relations associate for SmartAsset.
She could not address other factors that might attract retirees to Arizona such as quality of health care.
"We typically look at retirement through the lens of personal finances, so we do not have data on other factors that make Arizona attractive to retirees," Gibson said. "Some Arizona cities performed well in another one of our retirement-related studies due in part to medical care accessibility, but we don't have figures on Arizona's health care quality."
The full study results, methodology and interactive map can be found at www.smartasset.com/retirement/retirement-calculator#us.
Benefit calculations
Anyone who pays into Social Security for at least 40 calendar quarters, or 10 years, is eligible for retirement benefits based on their average annual earnings.
You're eligible for full benefits at retirement age 66 or 67, depending on when you were born, but you'll receive a credit and larger monthly benefits if you wait until age 70 to retire. If you retire early at 62, Social Security will dock your monthly benefits.
The Social Security Administration takes your highest-earning 35 years of covered wages and averages them, indexing for inflation. You get a big fat "zero" for each year you don't have earnings, so people who worked fewer than 35 years will see lower benefits.
SSA makes annual cost-of-living adjustments, even as you collect benefits, though there was no adjustment in 2016. That means retirement income from Social Security has built-in protection against inflation.
For many people, Social Security is their only form of retirement income they have that is directly related to the Consumer Price Index. It's a "perk" that doesn't get a lot of attention, Smith noted.
Many people whose health allows them to continue working into their mid- to late-60s and beyond find that staying in the workforce keeps them young and gives them a sense of purpose.
It also pads their Social Security checks. For example, someone with an annual income of $37,704 would collect $22,579 a year if they claim their benefits at age 62, $30,257 if the wait until they're 66 and $40,199 if they take it at age 70.