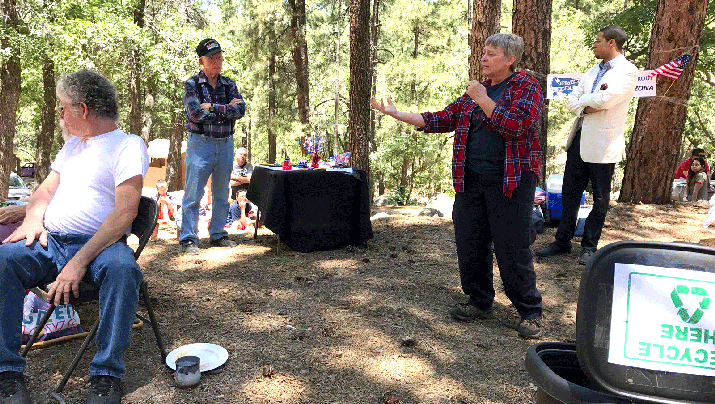 Photo by Aaron Ricca.

Originally Published: July 10, 2017 5:55 a.m.
KINGMAN – There was copious amounts of food at MoveOn.org's 'Potluck in the Pais' Resistance Summer Community Cookout July 2.
The independent, progressive, digitally-connected organization sponsored the peaceful get-together of about 35 attendees ages eight to 80 at the Deer Canyon picnic area in Hualapai Mountain Park.
The event was organized by Mohave County Democrats Central Committee District 1 Chairwoman Susie Gestrine, who was one of 1,000 people chosen nationwide by MoveOn to host the summer potlucks.
She briefly made political chat on health care, but the potluck was mostly about refreshing and rejuvenating before MoveOn efforts continue this summer.
"It was the MCDCC, progressives and independents showing up to hear what was being said," Gestrine said.
She and other potluck attendees were well aware of last week's online responses to the event.

"I don't like the violent tone and the divide. We all have our right to our opinion but we need to be able to meet at the table," Gestrine said. "We are totally non-violent. We feel strongly about what we value and want to get together and work on that. I don't like the name calling and don't want to sink to that."
Gestrine will be hosting a yet still-in-the-works MoveOn event later this summer. She'll also be coordinating with other organizations in August, when U.S. Congress is in recess, in hopes of getting the state and district representatives home in Arizona to attend local events.
Present to speak on behalf of the Arizona Democratic Party was Vice Chairman Jevin Hodge and Vice Chair Karyn Lathan. Both live in Tempe and serve the entire state of Arizona, coordinating statewide strategies for candidates and the counties.
At age 23, Hodge, is the first and youngest African-American to serve on the ADP leadership board and youngest ever Vice Chairman for the state party.
"Arizona is on the uprising," Hodge said. "It's going to take momentum from the new energy we're seeing involved in the elective process to elect like-minded candidates. The Democrat Party is also seeing an influx in participation and involvement from those who want to get involved and see a change in leadership."
That energy is the key in getting Mohave County Democrats more involved in future elections.

"We need to partner with other parties to capitalize on the new energy we're seeing in the post-Trump election. I'm incredibly motivated," Hodge said. "I constantly see a substantial amount of new faces who want to bring others into party."
Hodge is well aware of the overwhelming Republican presence in Mohave County, and plans to work with MCDCC to make a change.
"What it's going to take is to see more people enrolled as precinct committeepersons and to have ambassadors do disseminate information, register voters and remind them to vote," he said.

Political Demographics ARE Shifting
As to calls to prove changing demographics, regular meeting attendance of local groups such as MCDCC and Kingman Progressive Alliance is slowly increasing. The Mohave County branch of the Arizona Libertarian Party has held small, but regular, meetings in Kingman with the hope of expanding to Bullhead and Lake Havasu cities. MCDCC, KPA and the Libertarian Party have slowly increased their efforts to challenge Republican sponsored bills, such as SB 1431 and HB 2404.
SB 1431 is a school voucher expansion bill signed by Governor Doug Ducey April 6. Proponents say SB 1431 will give parents more say in where their kids attend school. Critics say it will shift taxpayer money away from already hurting public schools to private and parochial schools. The grassroots group 'Save our Schools' is working to put SB 1431 in voter's hands, letting them decide on voucher expansion.
HB 2404 is a Republican sponsored bill that affects the initiative and referendum processes by increasing requirements on paid petition circulators in Arizona. Opponents consider it a legislative roadblock to stifle the election process.
Republican's may still rule the roost, but some patterns have changed.
According to the Mohave County Elections Department, for presidential votes alone between 2004 – the earliest available online election tallies from when a Republican president won office – and President Donald Trump's 2016 electoral win, Mohave County Democrat votes dropped from 20,503 for John Kerry to 17,455 for Hillary Clinton. However, Libertarian votes spiked from 393 votes for candidate Michael Badnarik, to 2,639 for Gary Johnson, a 14 percent jump.
Another significant change came for Green Party and write-in votes, which can include voters registered as Independent in the General Election. In 2004, there were 225 write-in votes (there was no Green Party candidate on the ballot) and in 2016, 1,567 votes for Green Party and write-in votes, another 14 percent jump.
The change is small, but it is slowly building steam.

One of the goals of the ADP is to bridge with Libertarian, Green Party and Independent voters who share the same values to be more active in the political landscape.
"It has been absolutely crazy. We have seen thousands of people coming out of the woodworks," Lathan said of the response of eligible voters in her Phoenix district. Some of her monthly meetings have grown from 50 to 250 people.
She credited community service and inter-party activities as part of their recent successes.
"We're growing," Lathan said. "There's things to do."
For more information on the Arizona Democratic Party, visit www.azdem.org.
To check election results, visit https://www.mohavecounty.us/ContentPage.aspx?id=118.