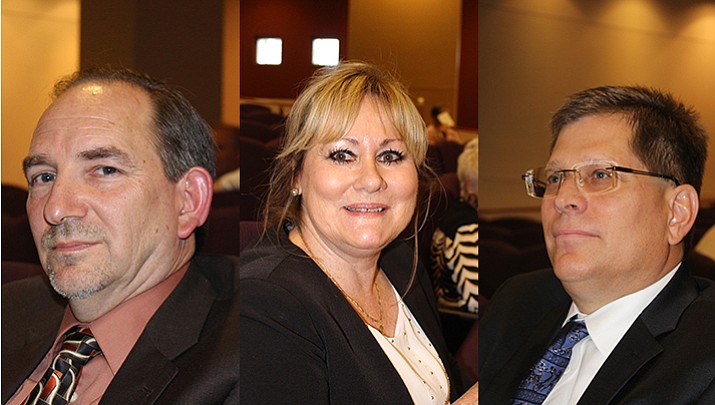 Originally Published: July 11, 2017 6:05 a.m.
If it were a popularity contest, Mohave County Supervisor Steve Moss would be the clear choice to be appointed Mohave County Superior Court Judge, replacing Judge Steven Conn who was forced to retire June 30 due to age limitations.
Moss collected a majority of support expressed by more than a dozen county officials and citizens who spoke to Gov. Doug Ducey's judicial panel that interviewed three candidates for the job July 6.
Jill Wachtel Davis, Judge Pro Tem from Lake Havasu City, had a few people speak in her favor, and Superior Court Judge Pro Tem Billy Sipe was backed only by County Attorney Matt Smith.
None of that matters, however, when the five-member panel makes its recommendation to the governor after interviewing the applicants and taking public comments for more than two hours at the County Administration Building auditorium.
Mike Liburdi, head of the interview panel, said the governor wants to "move quickly" on appointing a new judge to replace Conn, who turned 70 on July 2. The governor may accept the panel's recommendation, or he may call the candidates for a further interview, Liburdi said.
"This will help to quickly fill the vacancy," he said. "We put a lot of work in these (interviews) because judges are such an important part of our constitution and touch us in so many ways, so we view this as one of the most important functions of the governor's office."
Each candidate was asked 10 questions, including why they want to be a judge; who are some of their role model judges; what is their judicial philosophy; what is the role and influence of a judge; and what is a good temperament for a judge.
The panel also posed hypothetical situations such as what judges should do during a trial in which they learn that the prosecuting attorney has held out exculpatory evidence, or evidence that would be favorable to the defendant in a criminal trial, as well as handling a civil case in which they may have had a prior relationship with one of the parties.
Here's how the interviews went:
Steve Moss
The District 5 Supervisor and attorney in the law firm Kelley, Moss and Williams in Bullhead City was interviewed first, with Wachtel Davis and Sipe not present in the auditorium.
Moss said his third-grade yearbook shows that he wanted to be either a soldier or a lawyer and becoming a judge would be a recognition of what he's done professionally and what he's done in the community.
His role models are Charles Gurtler, presiding judge of Mohave County Superior Court, and Clarence Thomas, "a titan, in my opinion, on the U.S. Supreme Court," Moss said.
"When it comes to my judicial philosophy, don't stray from the law," he said. "Analyze the law and the facts, and don't interject your personal feelings."
The role of a judge is to be a neutral party, not to legislate, but to follow an orderly administration of the law, he added.
As far as judicial temperament, "I've always appreciated judges who are patient, those who are conscientious and those who are reliable, consistent. They're not all over the map," Moss said. "The defining characteristics are patience, passion, reliability and diligence."
On the exculpatory evidence, Moss said he would clear the jury from the courtroom and hold a discussion with both attorneys. If it's true, the prosecution would have a problem, he said.
Jill Wachtel Davis
Davis gave short, succinct answers to most of the questions, taking up far less than the allotted 30-minute interview.
She told the panel that becoming Mohave County Superior Court Judge is the next progression in her career and something she's been preparing for since becoming Judge Pro Tem in 2005.
Her first role model would be former Mohave County Superior Court Presiding Judge Randy Bartlett, who persuaded her to run for Justice of the Peace. Next is Judge Julie Roth, who did a majority of her case work in family court. She also mentioned Judge Gurtler.
If appointed to Superior Court, Davis said she would make sure litigants have fair and equal access to the courts, whether they're self-represented or represented by counsel.
"They need to know what to expect, and that the judge is listening to them," Davis said. "We need to continue to make sure cases are handled in a timely manner. That's one of the biggest public complaints."
She's also big on victim's rights. Arizona is fortunate to have victims' rights advocates and judges must listen to them, she said.
Davis said she's familiar with the campaign process, should she have to run for Superior Court judge after her appointment. She grew up in Lake Havasu City and knows a lot of people there, and was successful in running against the incumbent and two others for Justice of the Peace.
Davis said she would recuse herself from ruling on any case with a perceived conflict of interest.
As for exculpatory evidence, typically the defense counsel would raise those issues, she said.
Billy Sipe
The judge in Billy Sipe came out in the first question.
"I'm already a judge. Next question," he responded to why he wants to become a judge.
Like most attorneys, Sipe thought about becoming a judge from time to time, especially when he was unhappy with a judge's ruling on his case.
"You think, 'I could have done better than that,'" he said.
Sipe applied to be a Court Commissioner in 1994 and wasn't successful, which is good, because he wasn't ready, he told the panel.
He settled into private law practice and enjoyed running his business, so it was an "agonizing" decision to leave the "cozy confines" of his business to become Superior Court Judge Pro Tem.
Sipe said he saw a lot of changes that needed to be made to improve the judicial system. For one, he would change Rule 14.2 that allows attorneys to ask for a change of judge for no reason. It bothers him that you can "lawyer-shop" for a judge, he said.
On failing to disclose exculpatory evidence, Sipe said he would absolutely make sure the defense counsel knew about it. Prosecutors have a responsibility to disclose anything that might help the defendant.
"I would probably declare a mistrial at that point," Sipe said, "and order the prosecutor to give them the evidence. I would find that as a significant violation, quite frankly. There's a good chance the case would be dismissed without prejudice."
A lot of things go into good judicial temperament, and No. 1 is respect for both sides, Sipe said. It shows neutrality.
"The other thing is eye contact. I want them to know I'm paying attention," he said. "A lot of times it's difficult with the notes you're looking at, the files, the computer. This person has been sitting in jail for eight or nine months, waiting for their day in court. When they address me, I want to make sure I'm looking at them intently."