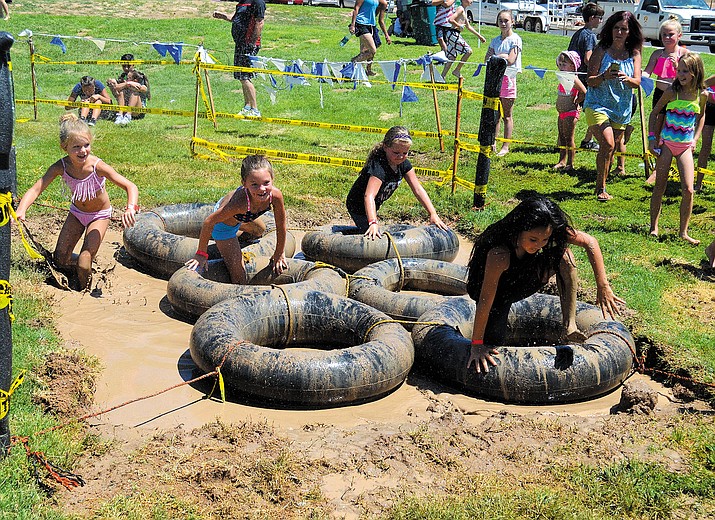 Photo by Aaron Ricca.

Originally Published: July 16, 2017 5:54 a.m.
KINGMAN – The ominous thunderheads to the east stayed just far enough away on the horizon to allow Thursday's 39th Annual Mighty Mud Mania to run its full duration.
A total of 475 competitors in eight age groups ran the mud gauntlet for a day's worth of fun in the sun, slogging through various mud obstacles at Firefighter's Memorial Park.
Winners
The following were the top two winners in each class:
Ages 4-5:
Boys: 1st Samuel Spurlock, 2nd Alex Renderos
Girls: 1st Brooklyn Jarquin, 2nd Brooklyn Steed
Ages 6-7:
Boys: 1st Mason Spurlock, 2nd Eli Bell
Girls: 1st Daniela Galvan, 2nd Morghan Zumwalt
Ages 8-9:
Boys: 1st Matthew Thomas, 2nd Ethan Bremmer
Girls: 1st Kiela Cooper, 2nd Lani Rogers
Ages 10-11:
Boys: 1st Brock Oktay, 2nd Gabriel Torres
Girls: 1st Julianna Frankenfield, 2nd Maya Davis
Ages 12-14:
Boys: 1st Malakai Bell, 2nd Kaiona Bautista
Girls: 1st Mackenzie Cathey, 2nd Melaika Bell
Ages 15-17:
Boys: 1st Cole Ingrassi, 2nd Matthew Shaffer
Girls: 1st Nija Bautista, 2nd Elisa Edwards
Ages 18-34:
Men: 1st Jordan Seybert, 2nd Noah McBride
Women: 1st Cierra Hansen, 2nd Chaz Morris
Ages 35 and up:
Men: 1st Mike Thomas, 2nd Delone Sykes
Women: 1st April Harrison, 2nd Tami Bawlard