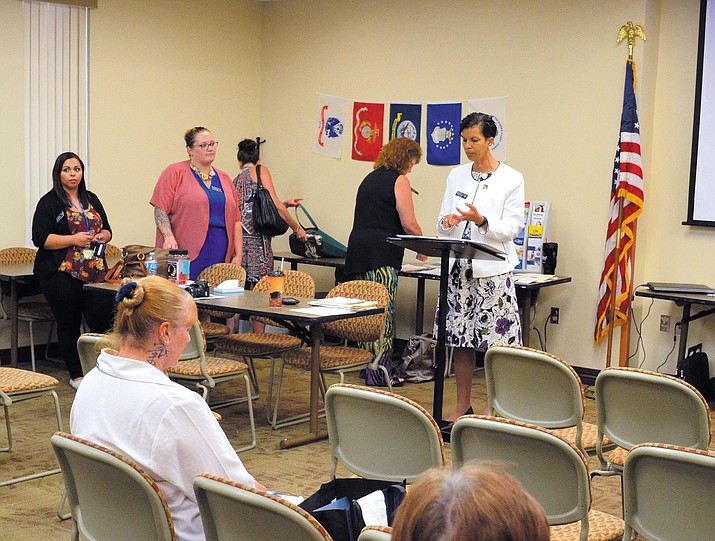 Photo by Aaron Ricca.

Originally Published: July 17, 2017 5:57 a.m.
KINGMAN – There was a solid turnout of about 60 women veterans at the 2017 Arizona Military/Veteran Women's Expo Saturday.
The Arizona Department of Veterans' Services hosted the event at Kingman Regional Medical Center. This was the first time AVDS has reached out specifically to women veterans in the Kingman and Bullhead City areas.
The one-day event was for women who have served or currently serve and their families. Women vets were encouraged to join their fellow service members and veterans for education and relaxation, and join they did.
"It was a huge success," said AVDS Director and retired U.S. Army Col. Wanda Wright. "I feel like this was definitely much needed in this community."
Charlee Long runs the women's program from Jerry Ambrose Veterans Council and reached out to AVDS to bring the expo to Kingman.
Wright said there are about 54,000 women veterans in Arizona, with roughly 2,000 in Mohave County. U.S. Navy veteran and Gold Star Wife Marlo Kunze is one of them.
"A lot of the women vets don't realize all the benefits they deserve," she said. "This is a good program to bring that to their attention. We're kind of forgotten about."
There were numerous veteran service organizations, non-profit organizations and employers on site including the American Legion, Disabled American Veterans, U.S. Border Patrol and Mohave Community College. There were also representatives from the VA and AVDS to answer questions about benefits and claims.
"This was very well received," Wright said. "We will be back."