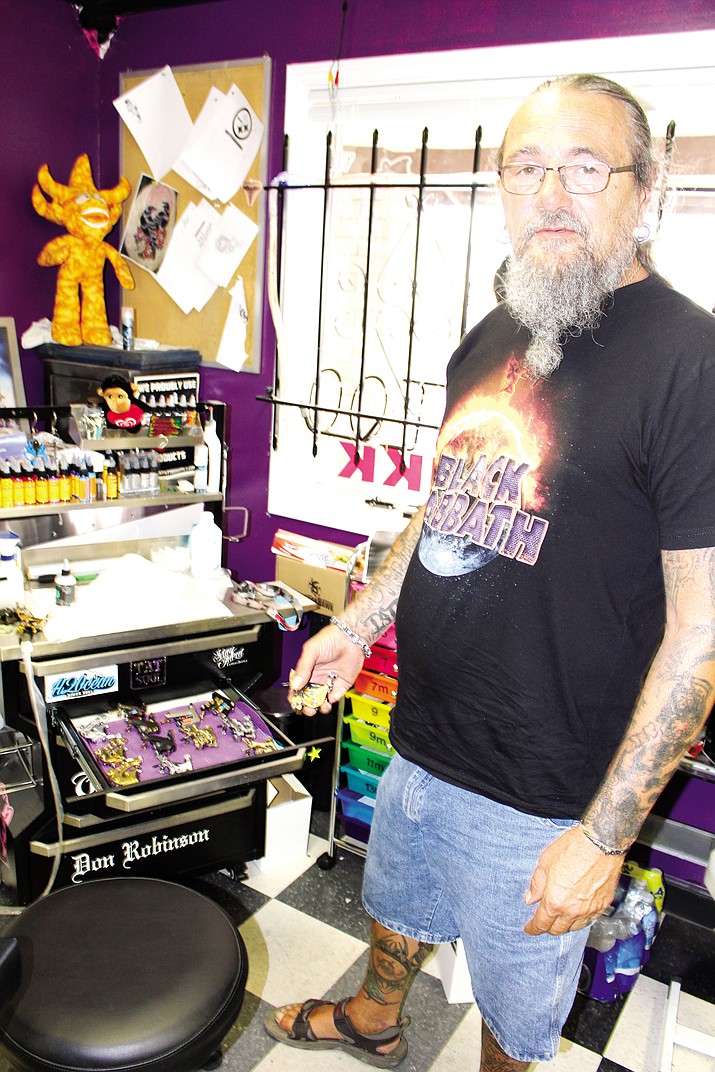 Photo by Hubble Ray Smith.
Originally Published: July 20, 2017 6 a.m.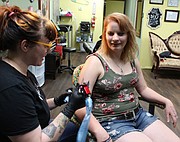 Beth Robbins settles into the "Simpsons" chair at Black Sheep Ink to have a wolf added to the pine trees tattooed on her upper right arm, symbolizing her comfort in the forest and callings of the wild.
She's tightly gripping her boyfriend's hand as tattoo artist Rebecca Parks starts to work with precision needle equipment that will permanently embellish the 19-year-old woman's body.
"It's really not that bad," Robbins said of the pain. "Your adrenaline kicks in. It's kind of like a roller coaster. When you get off, you're really happy."
Once associated with bikers, servicemen and hippies, tattoos have become not only acceptable in mainstream America, but part of pop culture. Like a sports car or leather pants, tattoos show you're still young at heart and not caught up in the doldrums of everyday life.
A Harris poll in 2012 found that one out of every five adults has at least one tattoo, and another study put the number closer to 40 percent for ages 18-29.
White suburban women are among the most common demographic coming into tattoo shops today, said Danny Garcia, owner of Ink'M Up for six years in Kingman.
"It's starting to come up. They're definitely more acceptable, but not fully accepted 100 percent," he said. "Now that it's more of an art form, rather than thugs, they're getting more accepted."
The stigma about tattoos still exists in the workplace. A survey by Skininfo.com found that 37 percent of human resource managers cite tattoos as the third-most likely physical attribute to limit career potential.
Parks, who started as a tattoo apprentice seven years ago, said she refuses to tattoo certain body parts such as hands and face that could hinder someone's employment opportunity.
"I tell them 'no' because I don't want to have a guilty conscience," she said. "I don't want them to not get a job. If someone has tattoos on their face, you stop looking at their emotions and start looking at their tattoos."
As far as what people want to have for a tattoo, it's anything and everything, Park said.
"I did a skeleton holding a rifle and a Day of the Dead portrait before that," she said. "We do refuse to do anything racist, anything homophobic, anything that's gang-related, you know."
Garcia of Ink'M Up said he sees a lot of memorials to loved ones and family pets. Soccer moms get their kids' names. Infinity signs are going around right now, and flowers are popular for women, he added.
The cost of getting a tattoo depends on the size of the work, detail of the design, how many colors will be used and what type of artwork is required.
Don Robinson, owner of Fine Tattoos, charges a $40 minimum and $80 an hour for detailed tattoos that take a while. He's got close to $15,000 wrapped up in machinery, tables, cabinets and supplies at his small shop at 1851 Airway Ave.
Robinson said Arizona seems to be more accepting of tattoos than Michigan, where he learned the art more than 40 years ago. There's also less regulation on tattoo parlors here. He needed five licenses to operate in Michigan, compared with only a city business in Kingman.
The pain level depends on the individual, Robinson said.
"Some people come in and it doesn't hurt at all, others hurt bad," he said. "Once you get past the first three to five minutes, it goes numb."
Minors as young as 14 can be tattooed with their parents' consent, but Parks isn't comfortable with anyone under 16.
"Who wants Ninja turtles and SpongeBob? Because in 20 years, they're going to think that's totally ridiculous," she said.