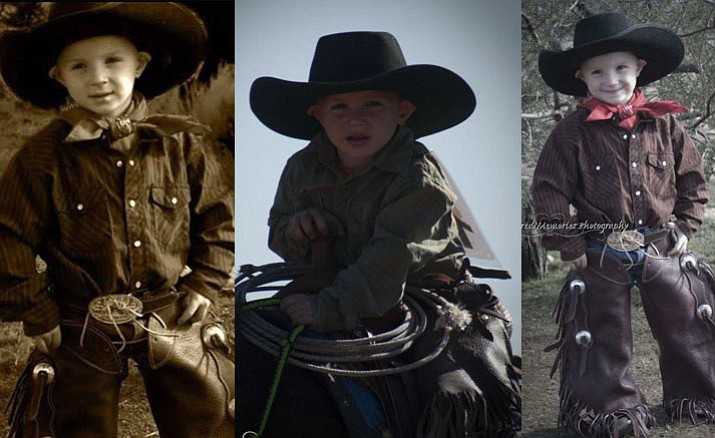 Originally Published: July 20, 2017 4:24 p.m.
Dustyn Thomas James Carley, 4, passed away in Kingman, Arizona on July 13, 2017. He was born on September 19, 2012 in Kingman to Shyanne Kristyne Rowe and Derreck Allen Carley.
Dustyn is survived by his mother, Shyanne Kristyne Rowe; Father, Derreck Allen Carley; Stepmother, Susy Linson; Brother, Gabe; Sisters, Tallynn and Maddison; Great-Grandparents, Cecil and Ielien Gustin, Alice Cupp, Judy Carley and Greg Carley Sr.; Grand-parents, Don and Lisa Carley, Ray and Candy Duggins, Mike and Kenna Gannuscio; Aunts: Kourtney, Bre, Annie, Kenzie, Rosie, Becca, Lacey and Clairene; Uncles, Hunter, Joe Beaner, Ray Ray, Mikey, Little Derrick, Antonio, Brandon and Jimmy Lee; God Parents, Shawn and Toni Schmitt and many, many more friends & family. He is preceded in death by his great grandfather; Dick Merritt.
Dustyn was full of life and adventure. He was a true blue Cowboy through and through. He had deep passion for rodeo and dreamt of riding Bulls and Broncs. He loved riding dirt bikes and hunting with his Dad and loved and took care of his baby sisters and loved his big brother, Gabe. He was truly an old soul and a Cowboy. He will be missed by all who knew him.
Private services will be held at the Cowboy Church in Golden Valley, Arizona Saturday, July 22, 2017 at 8 a.m. Following the services, a Celebration of Life will be held at the Carley residence at noon, 2508 Georgia Avenue, Kingman, Arizona.
Services were placed in the care of Mohave Memorial Funeral and Cremation Services. Thoughts and condolences can be sent to Dusty's family at www.mohavememorial.com.
Donations can be made to the family at their gofundme page.
"Bless all the little kids."