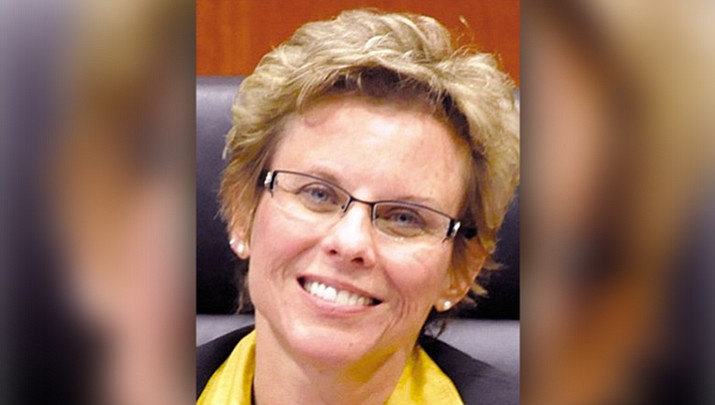 Originally Published: July 21, 2017 5:55 a.m.
Distilling down ideas to solve Mohave County budget woes, Supervisor Hildy Angius is looking at several options to bolster a general fund that is under financial assault.
For Angius, it's been much like fighting against a perfect storm of financial circumstances that includes a projected budget shortfall of as much as $2.8 million, a court ordered return of overpayments made to public safety and elected officials' pensions, and a sheriff's department that could use as much as $4.5 million to solve its hiring and retention of employees.
Angius said that her top priority is to pay down a $39 million pension debt in the Public Safety Personnel Retirement System (PSPRS) and the Elected Officials Retirement Plan as quickly as possible, and provide the Mohave County Sheriff's Department with $1.5 million to fix salary compression issues.
"I'd like to give them more, but I just don't think that's possible … this year," Angius said.
Angius' solutions also seek to fill in a $1.6 million funding shortage in the general fund, the return of $1.2 million in overpayments made by public safety employees to PSPRS, and a funding mechanism to cover ongoing pension fund increases.
Faced with similar budget shortfalls, states across the country have spent down a portion of their contingency monies, also known as rainy day funds.
"The general fund has $2 million in its contingency fund. That is its rainy day fund," Angius said. "I want to ask the administration what is its definition of a rainy day. What is its definition of an emergency?"
Angius' suggestions are to "spread the pain around," taking reserves where they can be found while not leaving any department vulnerable or unstable.
"Judging from the numbers I've seen I think this is doable," she said.
Angius' latest fiscal suggestions include taking $1 million from the rainy day fund and declaring a funding holiday on future payments made to the employee benefit trust (EBT) that is more than $2 million overfunded.
"I don't want to take $2 million from that fund," Angius said, "I want to take $1 million."
Angius' plan also includes taking $1 million from the county's motor pool fund, $100,000 from janitorial services, $200,000 from environmental health, $500,000 from landfill administrative fund, $1 million from the landfill post closure fund, $500,000 from maintenance funds spread over various improvement districts, and $800,000 from the library building fund.
"These funds are very highly funded," Angius said. "I don't think it's going make anything fall apart."
Based on the suggestion of Mohave County Administrator Michael Hendrix, a portion of the $612,000 that has been set aside for economic development could be used to shore up county coffers.
"I think this is there by mistake," Angius said. "When we did the last EBT holiday, it was $1.5 million and we set aside $500,000 for the DOT Food incentive."
Sitting as chairwoman of the benefit trust, Angius added that the remaining $1 million was supposed to be earmarked for the contingency fund, but eventually it ended up in economic development.
"If somehow another company comes to Mohave County it would have to go before the board and we would have to start from scratch," Angius said. "I think it's necessary to keep $600,000 there."
In totality, including tapping into as much as $1.8 million in some restricted funds, Angius' budget plans could result in the financial shuffling of $6.2 million to $6.7 million to address the county's most immediate needs without raising property taxes.