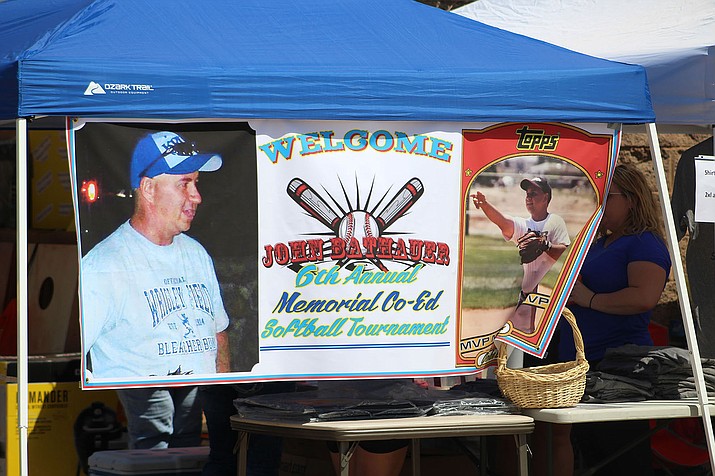 Photo by Beau Bearden.
Originally Published: July 23, 2017 6 a.m.
KINGMAN – John Catt was one of many softball players that could be found Saturday morning at Centennial Park for the sixth annual John Bathauer Tournament. The Phoenix native has made the trip to Kingman since the inaugural event six years ago and was happy to support the good cause.
"It's always an honor to play in the tournament in (Bathauer's) name," Catt said.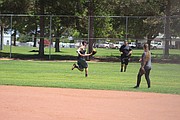 The tournament, which raised $7,000 in scholarships for local high school seniors last year, looked to be on pace for similar numbers as Centennial Park was packed with families, vendors and many more.
"It's always good to get more people," Catt said. "More people, more money, more scholarships."
While Catt is a regular at the tournament, Riverside, California native James Kelm was playing for the first time. Kelm, who recently moved to Kingman, didn't know the background of the tournament. However, once he found out, he was glad to join the cause.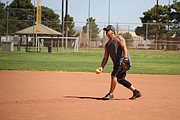 "It's always good to help the kids out," Kelm said. "They need all the help they can get for scholarships. College isn't cheap, so I think it's a very good thing."
Kelm also mentioned he enjoys playing in these types of tournaments and hopes to return next year.
"We'll see how it goes," Kelm said. "I do know a lot of guys out here that play, so I'll probably end up coming out here every year to play."
Kingman's Russ Smith, meanwhile, wasn't too familiar with the tournament's background, but was glad that the community was banding together as one.
"I think it's great for the community," Smith said. "It's fun for everyone to come together and bring awareness for it."