Originally Published: July 23, 2017 6 a.m.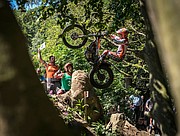 Kylee Sweeten of Oregon knows MotoTrials isn't the easiest sport to describe to someone who has never watched it in person. For that reason, the 19-year-old usually says it's the same thing as motocross even though it's not.
"The sport is so technical and different," Sweeten said. "Sometimes I even use golf as an example because you want to have a low score in trials. You get points every time you dab and you don't want that."
Fellow Oregonian Daniel Blanc-Gonnet also encounters the same issue of describing a sport that was originally called "Reliability Trials" when it began in Scotland in 1909.
"When I'm trying to explain the sport to someone I generally start off by saying that the goal is not speed, the goal of a specific motorcycle event is control and precision," Blanc-Gonnet said. "That's the main point people have a hard time getting. Instead of racing on a motocross track against time, you're really competing against yourself in a section, which can have rocks, logs, banks, hills and things like that. Your goal is to complete the section with as little points as possible."
Blanc-Gonnett, the No. 7-ranked rider in the United States, will join 70 other riders Friday-Sunday at the Hualapai Mountain Park for the 2017 TrialGP Wagner Cup. The event happens in the United States every two years and Arizona last welcomed it in 1990.
"Central Arizona Trials (CAT) is a local trials bike riding organization that has hosted one to two competitive events at Hualapai Mountain Park each year for the last 10 years," Mohave County Supervisor Buster Johnson said in a press release. "Mohave County is honored to continue our partnership with them and to be hosting this year's international TrialGP USA Wagner Cup event."
Kingman's event is the sixth on an eight-event global tour that makes up the 2017 International Motorcycling Federation's (FIM) World Championship. One of the event coordinators, Keith Roper, expects between 1,500-2,000 total attendees. When Roper and fellow coordinators did early calculations, they estimated $1.2-$1.5 million in gross revenue based on 1,000 spectators.
"The people of Kingman, both personally and corporately, have gone out of their way to embrace our club and this event," Roper said. "We extend our gratitude towards them."
All other stops on FIM's World Championship are outside the United States, which Alex Niederer knows is even more reason for him and his fellow Americans to succeed against the toughest competition. According to Roper, just eight of the riders that signed up are from the United States and the rest are from around the world.
"For us, it's really important to prove to the rest of the world that we are good riders over here in the U.S.," Niederer said. "We're not riders that should be taken lightly, and we want to make a statement to show the level of riding here in the U.S. is on par with the level of riding in other countries."
Niederer, the No. 5-ranked rider in the U.S., started riding motorcycles at 11 years old with his friends in the mountains of Austria. The 23-year-old currently lives in Florida and started riding professionally in 2015. Niederer knows his rise to the top of the rankings wouldn't have happened without a great deal of support.
"I always dreamed of being one of the best, for sure, but I never thought that was something that I could do," Niederer said. "My parents gave me the opportunity to travel and compete. They gave me all the tools to get better at what I'm doing. I took that opportunity by the neck and it kind of just went from there."
Glendale's Bryan Roper, meanwhile, has competed at the world level for several years and is focused on taking advantage of being in his own backyard.
"Now they will be on my home turf," he said in a press release. "This terrain is where I really excel."
It may not be Blanc-Gonnet's home turf, but the Oregon native has competed in Kingman on one other occasion for a national championship. He mentioned that the Hualapai Mountains are unique because they are at higher altitude, but the terrain provides a lot of traction and the sections feature a lot of large obstacles.
Action kicks off at 9 a.m. Friday with youth trials for riders 12 years old and younger. Then official riders have qualification practice from 11 a.m. to 1 p.m., followed by an autograph session at 2 p.m. and then qualification from 3 to 4:30 p.m.
Admission is free Friday, and adult tickets at the gates Saturday and Sunday are $30 for a single day and $40 for the weekend. Admission for children at the gate is $15 for one day and $20 for the weekend. For more information, visit the event's website at www.trialgpusa.com.