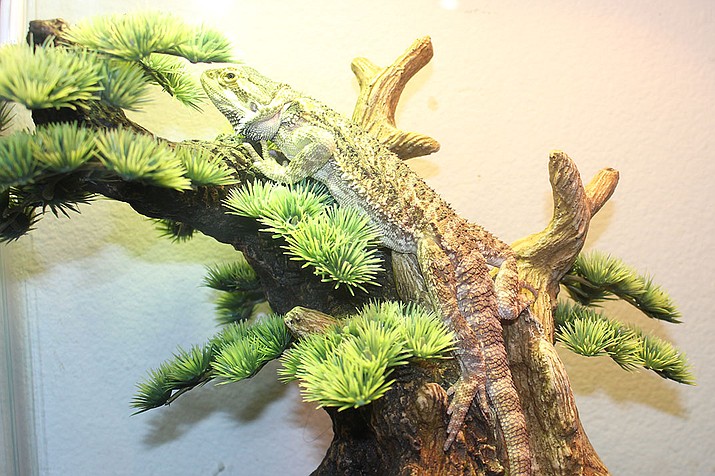 Originally Published: July 26, 2017 6 a.m.
Word around White Cliffs Middle School is if you're taking sixth-grade math and science classes, try to get Dan Emborsky as your teacher.
He's got Thor, the bearded dragon, living in his classroom terrarium, along with a super cool collection of action figures from Superman, Batman and Wonder Woman to Star Wars and Marvel comic characters.
And he spent about $100 out of his own pocket to refurbish his students' table tops with white erasable panels so they can show their work.
"When you walk around the room, you can tell a lot about the teacher by their decorations," said Emborsky, a fifth-year KUSD teacher who spent 20 years as a restaurant manager in Michigan.
He's a "color" person, and likes to decorate his classroom so the kids feel safe and comfortable. He doesn't want them to feel "disgruntled right off the bat."
It takes teachers a couple of weeks to prepare their classrooms for the opening day of school, which is today for Kingman Unified School District, and a lot of classroom supplies and decorations are purchased with personal funds.
Preparation and attitude in the classroom are contagious. Students will pick up on their teacher's excitement and be more likely to commit to the class and get into the "flow" of the classroom, said Kayla Graves, who teaches social studies and language arts at White Cliffs.
She forks out $700 to $900 a year on school supplies and rewards for students who perform well. Sometimes, good grades aren't enough incentive.
"The main thing is trying to keep things that you can keep so you don't have to revamp the entire classroom each year," Graves said.
Last year was her first in a new classroom, and she painted all four walls. "Usually, what goes on in your classroom is up to you," the teacher said.
She's got a couple different world maps posted on her walls, along with motivational signs and sayings.
This year she put up a "student center" bulletin board with request forms to retest, missing work forms and a classroom newsletter.
"That way students know how it works, just the procedures like bathroom passes," Graves said.
And she's got her own classroom pet, a guinea pig named Ollie, that students can have on their desk if they're working.
Graves said starting school can be overwhelming for first-year teachers, with all the training for testing and standards, and decorating their classroom is probably the last thing on their minds. But it's fun.
"When you walk into a classroom, it's bare," she said. "Everything has to be purchased."
Emborsky said he receives some donations from parents to start the school year, but he needs a lot more, especially pencils and paper.
Along with getting things ready in the classroom for students, he's constantly reading his subject area, looking at what he can change or tweak in his study plan.
"Teaching is a constant reflection of what you've done," he said. "At the end of the year, you don't pick up and leave. You think about what went right, what went wrong. How can I teach it multiple ways so kids can understand it?"
More like this story