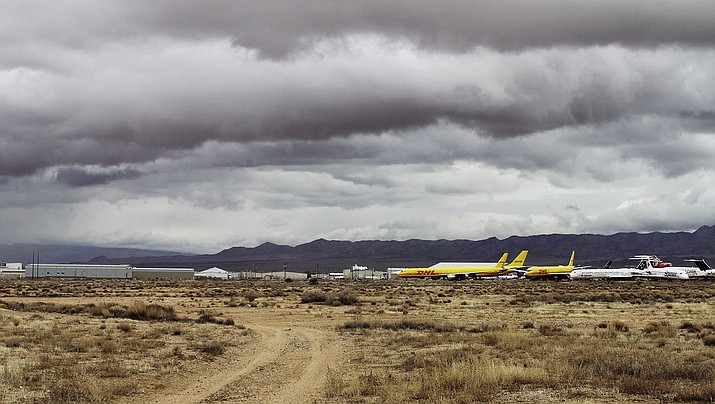 Originally Published: July 27, 2017 5:59 a.m.
KINGMAN – A special work session between the City of Kingman and Kingman Airport Authority is scheduled for 5 p.m. today at Beale Celebrations, 201 N. Fourth St., to provide in-depth discussion about specific concerns with the airport authority's operations.
Dave French, executive director of KAA, will give a summary on land sales and an update on master plan accomplishments. He'll also provide an update regarding airport maintenance standard operating procedures.
French and Krystal Burge, president of the KAA board, will provide an update on partnership opportunities for airport terminal development.
Kingman Airport Authority has come under scrutiny for its perceived lack of transparency and underperformance with the 4,000-acre airport and industrial park, which are considered to be Kingman's best asset for potential business development.
The industrial park is losing more tenants than it's gaining, including Scot Industries that has acquired land in Golden Valley to build a new plant. Aero-Flite, a firefighting tanker service, left the airport in 2014.
Mayor Monica Gates will give opening comments at the workshop. She was among four newly elected City Council members who campaigned for changes at Kingman Airport Authority, but has since butted heads with Councilman Travis Lingenfelter on how to effect those changes.
Lingenfelter was a force behind forming the Partnership for Economic Development in Kingman, or PEAK, to bring more business to the airport after years of stagnation. No new business or construction has occurred in the past six years, he noted.
Kingman Airport Authority staff will discuss strategies regarding business recruitment, including airport criteria and target industries.