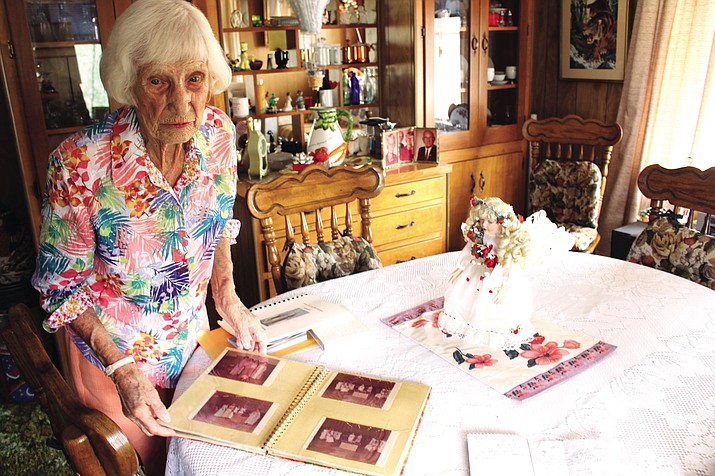 Photo by Hubble Ray Smith.
Originally Published: July 27, 2017 6 a.m.
Addie Burdett survived the Great Depression, worked in the shipyards of Washington during World War II, outlived four husbands, helped found Our Lady of the Desert Roman Catholic church in Dolan Springs and attends mass there every week.
Maybe that's why the Good Lord has blessed her with 100 years of life, come Aug. 21. Her friends are planning a 100th birthday bash Aug. 19 at the church.
"She sings in the choir and goes to church every Sunday," said Nancy Kastor, who picks Burdett up for church on her way from Meadview. "She's very faithful, very religious. She says the rosary once a day at home."
Burdett, looking spry with clear blue eyes and cropped white hair, lives independently on two acres in rural Dolan Springs that she and her late husband, Homer, bought for $200 in 1958. They put $10 down and made payments of $10 a month with no interest.
They moved to Dolan Springs from Hemet, California in 1978, setting up a 1962 mobile home with Canadian pine ceilings and paneling, which has since been expanded into a living room and dining room.
Burdett had her driver's license renewed at age 97 and still drives her reliable Oldsmobile into Kingman to see her doctor, do her banking and go shopping once a month.
"I've been driving since I was 10. Ninety years. Can you imagine that?" she says inside the comfort of her small home, surrounded by a century's collection of photographs, knick-knacks and memorabilia.
Outside, a chipmunk nibbles on bread crumbs she threw out, a cottontail rabbit dashes across a dirt road, and Joshua trees and cactus dot the landscape stretching into Mt. Tipton Wilderness Area.
"Look at that beautiful land out there. Nobody could make that except God," she said.
Staying put
Born near Butte, Montana, Burdett is hell-bent on spending her final years in Dolan Springs. She has no children.
"I don't want to go to a rest home," she said. "I told my nieces I don't want to go to a rest home and God will see that I don't have to leave my home. God will be there for you. You've just got to put yourself in his hands."
And you can see God's presence all around her – pictures of Jesus on her walls, statuettes of Mother Mary, rosary beads, religious pamphlets and books scattered about her coffee tables.
She has her "guardian angel," Bonnie, as a neighbor, picking up her mail in town and coming over to dress her leg after she'd scraped it in the shed and it became infected.
"Thank God I'm healthy. My doctors can't get over how good I look," Burdett said. "I eat good and I cook. I keep busy. That's the main thing. People get old and don't do anything. That's their mistake."
Burdett said her doctor cracked her up during one visit when he told the women in his office, "Look at her. She's got her own teeth." She takes medication for her thyroid, heart and blood pressure.
On turning 100, she said: "I don't feel that old, no older than when I was 50. My mental capacity is fine. I take care of my bills and pay them. I have to be really, really careful because I do fall. I fell five times already and two of them I had to go to the hospital and I hurt my shoulder."
What has she learned in 100 years?
"Life is what you make it, honey. I'm not a negative person, never have been. A lot of people in life, they're negative. You've got to think positive. You don't want to think negative. That gets you right down in the cellar," Burdett said.