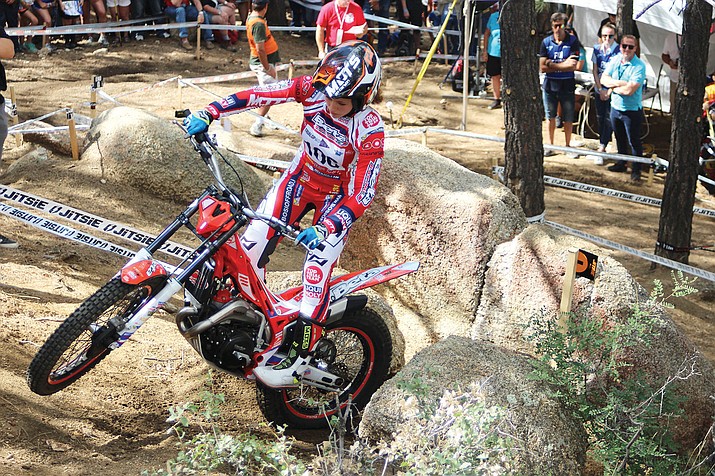 Photo by Beau Bearden.
Originally Published: July 30, 2017 6 a.m.
KINGMAN – For Germany's Theresa Bäuml, Norway's Mette Fidje and Italy's Sara Trentini, this weekend's TrialGP Wagner Cup at the Hualapai Mountain Park is the first taste of competition in the United States. The trio knew for at least a year or more they would get the opportunity to travel to the U.S., making it a special experience.
"It's surreal, really," Fidje said. "It's amazing."
Photo Gallery
TrialGP USA Qualification, July 28
TrialGP USA held its qualification trials Friday at Hualapai Mountain Park. Photos by Beau Bearden.
The trio of international riders weren't the only ones making their U.S. debut, but they didn't disappoint during Friday's qualifications. Bäuml led the way in fourth at 38.69 seconds, followed by Fidje in seventh at 46.55 seconds and Trentini in 10th.
All three spoke about the long flights to America and Fidje made sure her family could join her.
"My entire family and I are here – my sister, mother and father," Fidje said. "For me, it's a good experience to have them with me. I want my family to have the same experience as me and be part of the journey."
America is just the first stop on that journey, however, as the TrialGP World Championship women's series goes to the Czech Republic, Italy and then Spain.
When Fidje was researching Kingman, she knew it was going to be hot. Nevertheless, it's still been an adjustment.
"It's a lot colder at home," Fidje said. "We had a bad summer this year. So it has been quite cold all the way up to now. It's like 20 degrees Celsius (68 degrees Fahrenheit) at max."
Trentini, however, didn't feel the weather was much different from home.
"It's the same weather as Italy," she said. "Maybe a little bit hotter, but it's OK."
Another adjustment for the riders is the challenging course set up in the Hualapais.
"The track is a bit tricky," Bäuml said. "The rocks are a bit curved and there's not a lot of grip. It's a bit different."
For Phoenix's Bryan Roper, on the other hand, the course isn't unfamiliar. While he said 95 percent of the lines are new stuff that he hasn't run, he still felt comfortable competing in his home state.
"This is awesome to have all the top riders be right here in 'my backyard,'" Roper said. "Even though it's still three hours away and I basically just come up here for the local events and Nationals, I still obviously have rode the most here out of any of the other competing riders."
Despite his advantage, Roper didn't fare as well as he would have liked – finishing 16th in qualifications. Nevertheless, the qualifications were run with a time limit to set up the field for Saturday and today. During actual competition, riders can take their time to complete the course without touching their feet to the ground.
Full results of Saturday's competition can be found online at www.trialgp.com/index.php/results/results-standings.