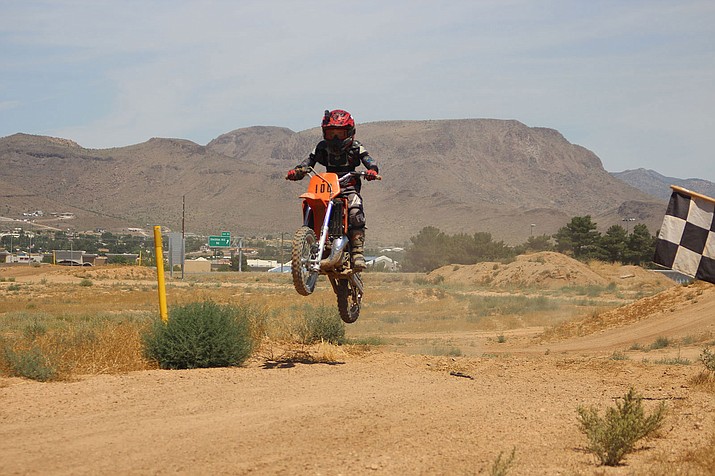 Photo by Beau Bearden.
Originally Published: June 4, 2017 6 a.m.
KINGMAN – Karson Eales had no idea what to expect Saturday as the seven-year old walked up to the Cerbat MotoSports signup booth at the Mohave County Fairgrounds.
His parents, however, knew exactly what Karson would receive: the championship trophy for the Motocross Beginner's Series.
Once Karson did receive his trophy, a bright smile crossed his face as he looked at his mother.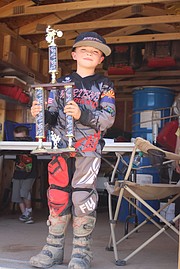 "It was awesome, definitely a proud mommy moment," Jessica Eales said. "The whole series has been awesome watching him grow on the bike and learn as he goes. He's progressed a lot. It's just amazing."
The feeling was mutual for Ryan Eales, as he said it was something to be proud of as a father. Karson, on the other hand, was less talkative, even though he has four first-place trophies at home.
This one meant a lot more though, especially since it's his first championship.
"Yeah this trophy is better because it's a champion trophy," Karson said.

Karson also shyly admitted he had to work hard to get to where he is today. He had to deal with some adjustments, highlighted by riding a bigger bike for the three-race series. However, Karson agreed with his father that he felt more comfortable on a bigger bike.
"Before we started the series, he had a KTM 50 Senior, and he had a lot of issues with it," Ryan said. "He ended up getting on a 65 SX and from there, he just took to it like bread and butter. He just took off."
Karson also had to transition from an automatic to a clutch, but it didn't take long before he was a natural.
"Two days out in the desert practicing and it clicked with him," Ryan said.
That's no surprise, however, as Ryan mentioned Karson was on a bike at a young age.
"As soon as Karson was able to get on a little bike, we put him on one," Ryan said. "He's just been doing it ever since. This is where his heart lies."
While the Cerbat Motosports Series doesn't resume until September, there will be a July 4 event at the Mohave County Fairgrounds. Gates open at 10 a.m. and racing starts at noon.
"This will be our fifth year," Cerebat Motosports organizer Joe Weber said. "We'll have scramble cars, mud bogs, tuff trucks, quads and side by sides."
Weber also mentioned they usually have a big turnout with families barbecuing throughout the day.
Cost is $5 per person or $25 a carload. Contact Weber at 928-279-6770 for more information.