Photo by Hayden Merrill.

Originally Published: June 5, 2017 5:55 a.m.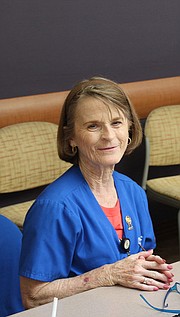 Kingman Regional Medical Center is at the center of the city's economy. Being one of the largest employers in all of Kingman, it is a very important part of the community. However, the workload required to keep KRMC running requires more than paid employees of KRMC can handle. This is where the KRMC volunteers swoop in and save the day.
The volunteer program at KRMC has been around for years. It consists of three unique sections that volunteers can sign up for. There are the standard volunteers that cover positions ranging from the information desk to pet therapy, the hospice volunteers who are specifically trained to provide support and companionship to patients at the end-of-life and the "Volunteen" program that allows volunteers aged 14 to 19 to earn some valuable experience in the medical field.
"We (volunteers) do crafts with the patients, read to them, play games with them," said Kelli Truver, manager of volunteer service for KRMC. "Patients can sometimes feel uneasy when they come in, we want to make the patient experience more enjoyable."
While KRMC enlists the volunteer services of nearly 150 people aged 14 and up, a majority of the volunteers are retired locals looking to give back to the community they have been a part of for several years.
"They just want to give back to the community," Truver said.
Many of the volunteers at KRMC have been offering their services for several years. Some volunteers have even been a part of KRMC for decades, including volunteer Pat Heinze.
"I was talked into volunteering by members of my church and other friends," Heinze said. "It gives back to the community."
Heinze has been a volunteer at KRMC for over 21 years. She has been a resident of Kingman for 33 years and said that volunteering at KRMC is a great way to give back.
Heinze currently runs the front information desk on her volunteer shifts, a position she has enjoyed due to the amount of people she gets to meet and help.
"I like greeting the people, cheering them up and helping them with whatever they need," Heinze said.
There are also several other positions around KRMC where volunteers can offer their service. One of the main volunteer opportunities can be found at the KRMC gift shop.
The gift shop, located at the main entrance of the KRMC campus, is completely run by volunteers. The gift shop also helps people who may not be able to volunteer, but are still looking for an opportunity to give back to the community.
"The gift shop donates scholarship money to people interested in a medical career," Truver said.
Part of the proceeds made by the KRMC gift shop goes directly to funding the education of a local student who may be looking at pursuing a degree in the medical field.
"It's busy, but it's nice to see people and interact with people," said Dee Gusman, a KRMC volunteer for about 7 years.
Gusman is just one of the many volunteers that make the KRMC gift shop a success.
"We're always looking for new volunteers, we have a position for everyone," said Truver.
A typical volunteer shift includes a four hour period done about once a week. Teenagers who are a part of the "Volunteen" program can even volunteer year round as KRMC can work with school schedules with relative ease.
For more information on the KRMC volunteer programs, or to get involved, visit the KRMC website at azkrmc.com, and click on "volunteering at KRMC" under the community tab. Potential volunteers can also contact Kelli Truver directly at ktruver@azkrmc.com to learn more.